FILMFACTS
TRIVIA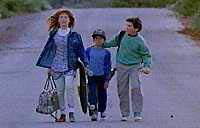 Totally Trivia
Film facts for the 1989 Family movie starring Luke Edwards, Fred Savage, Beau Bridges More Cast
We believe the following trivia is all legit. If it's bogus or you have additional info, please update us.
The year after the release of this film Nintendo really did hold a national contest in America to find the "World Nintendo Champion". The winner and some runners up got to keep ultra-rare gold plated NES carts, I saw one that got bids of $6,000 on eBay once and the reserve wasn't met.
The Wizard was FINALLY, after years of petitioning, released on DVD in the United States in 2006. It preserves the films original widescreen format.
Previous to the 2006 DVD release, the movie was only available in full screen format in Germany under a different name, "Joy Stick Heroes", and without the original English soundtrack.
If you visit the location of the dinosaurs from the final scene of the movie (which is located in Cabazon, CA) if you enter the gift shop inside the Brontosaurus, Jimmy's yellow lunchbox (as of 7/21/07) is still in the alcove where he left it in the movie and can be seen on display.
The Cabazon Dinosaurs location at the end of the movie was also used in a rather romantic scene in the 1985 film "Pee Wee's Big Adventure."
A very young Tobey Maguire, now of spiderman fame, has a very small role with no speaking lines in the film. He is part of Lucas's entourage. His 'cool' mullet cut is classic!!!
In the scene where Putnam is blocked in by the Truckers, The truck that spanky is driving, is the same truck that was in "Over The Top" that was driven by Sylvester Stallone.
The woman who says "ROGER, ITS THEM AGAIN" is the woman who dies trying to get off the bus in "Speed".
Jenny Lewis is the lead singer in indie rock band Rilo Kiley who are now on a major label. Jenny can often be seen performing in vintage Super Mario Bros. and Zelda T-shirts. It is also worth noting that a Rilo Kiley fan created a Web video game that features Jenny Lewis as one of the players. Check out their music at RiloKiley.net.
Rilo Kiley have played The Coachella Valley Music Festival and on Late Night with David Letterman and Conan O'Brien.
Bogus Trivia
There's often fake stuff floating round, y'know? -Like the 'ghost boy' that can allegedly be seen in "Three Men And A Baby".
But, nothing bogus that we know yet for "The Wizard".
Next: Behind The Scenes
Or use the menu to select another option
1989 Universal Studios
1999-2018 fast-rewind.com
V4.0b Powered by Rewind C21 CMS