FILMFACTS
TRIVIA

An Officer and a Gentleman Trivia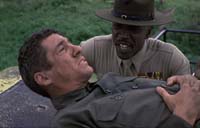 Totally Trivia
Film facts for the 1982 Drama movie starring Richard Gere, Debra Winger, Louis Gossett Jr. More Cast
We believe the following trivia is all legit. If it's bogus or you have additional info, please update us.
The "Puget Sound Deb's," the name coined for the girls who pursue the young naval officers-in-training are actually representative of what has been famously coined by rapper Sir-Mix-A-Lot as "Bremaloe's." A "Bremaloe" is a young girl from Bremerton, Washington (home of the Puget Sound Naval Shipyard) with the same career goals as a "Puget Sound Deb."
Debra Winger has apparently stated publicly that making the movie was one of the worst experiences in her life!
After Debra Winger and Lisa Blount change their clothes in the car after work early in the film when they go to cruise all the new officer candidates, you can see some faint bruising on Lisa Blount's chest from a recent car accident.
The Naval Base was called "Fort Ranier" in the movie, a misspelling of "Rainier", made famous by the mountain of that name.
The paper mill is indeed the biggest employer in the town of Port Townsend.
David Caruso has a part as Daniels, a member of Mayo's training platoon. He is the student who is attacked and choked by Gunnery Sergeant Foley during the martial arts demonstration and he is also the student who almost drowns during the 'dunker' training and is subsequently D.O.R.'d.
A mid-season 1978 750cc T140 Triumph Bonneville is the motorcycle that Richard Gere rides in the film. T140s were supplied to London (UK) cinemas for display in foyers, although it did no good for the old Triumph firm which folded in 1983 ! He switched to it's 650 cc T120 predecessor in the film, 'Mr Jones'.
Thanks to
Jennifer Conant
Many shows have parodied the end scene of this movie, including most notably "The Simpsons" in the episode where Marge has to choose between her bowling coach and Homer. It is hysterical, right down to the instrumental music of "Up Where We Belong".
Thanks to
Chuck Ballenger
I believe that the actor who played Captain Graves, William S. Graves, is, in fact, a retired Navy Captain.
Bogus Trivia
There's often fake stuff floating round, y'know? -Like the 'ghost boy' that can allegedly be seen in "Three Men And A Baby".
But, nothing bogus that we know yet for "An Officer and a Gentleman".
Next: Behind The Scenes
Or use the menu to select another option
1982 Paramount Pictures
1999-2018 fast-rewind.com
V4.0b Powered by Rewind C21 CMS