The potentially 'high-cheese' concept of a guy moving from the big city to a small town where popular music and dancing is banned by law could have been disasterous, but somehow the writer (Dean Pitchford) managed to make the absolute best of this premise by using it as intelligently as possible. Thus, an intelligent, sensitive and extremely well ordered script was the result. Easily the most mature and developed of the 'teen movie' scripts.

Most impressive is the character of Reverend Shaw Moore Played by John Lithgow. Recently, when re-watching the movie again, I was struck by how brilliantly his whole character was developed and portrayed with true depth. His relationship with his daughter Ariel (Lori Singer) and the dramatic tensions that the family experiences are genuinely and sincerely played. It is almost a character piece in the way that all the characters fit together and interact.
If you were there at the time, you will be teleported back to the mid 80's with the way that people were and the phrases that they used. The music is very good and the soundtrack is still available on the Sony label. A 15 year anniversary edition was produced in 1999 with a couple of extra or extended tracks on it. Sound quality of all versions is good.
The dancing, ironically, is probably the weakest part of the whole movie and that is saying something, because the overall standard is very high. There are other dance movies that portray period dancing better than this, but they invariably are much weaker in the character/script department. That said, the dancing does have its moments.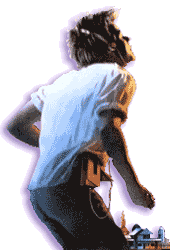 Classic 80's musical montaging techniques are used throughout.
After re-viewing its main rival from the period, "
Flashdance
", I can comfortably say that I believe that Footloose is a better movie, with more three dimensional characters. By comparison "Flashdance" seems to lack any real heart or soul and it's higher production values (cost) just seem to emphasise that. "
Flashdance
" seems more like a soul-less collection of set pieces sewn together to make a 'high concept' movie for the masses.
Footloose was directed by veteran director Herbert Ross, who went on to direct "
The Secret of My Succe$s
" the following year with Michael J. Fox.
Footloose was a bone fide hit with over US$80m gross in North America alone. Wisely, no sequel was ever made.
The absolute business. This movie is a very important piece of 80's culture, reflecting perfectly the mood and attitude of teenagers, their dress and vocabulary in 1983/84.
In my opinion, this movie is one of the true representatives of the 80's.
Notice any mistakes? Review
Strengths:
A fantastic movie that will teleport you back in time!
Weaknesses?
Dancing is curiously weaker than other less commercial dance movies from the 80's.
Our rating:
9.5 out of 10
Review Written by Nick: Contact | More Reviews by Nick