Songs
The soundtrack has been described as the one that 'defines the 80's'. It includes the massive hit "Let's Hear It For The Boy" and has always been readily available on CD.
Recently, a digitally remastered special edition was released with greatly improved sound quality and four extra tracks.
The following song tracks were featured in
Footloose
:
Track names in Bold are linked to a Soundtrack release.
Footloose - Kenny Loggins
Let's Hear It For the Boy - Denise Williams
Almost Paradise (Love Theme) - Ann Wilson, Mike Reno
Holding Out For A Hero - Bonnie Tyler
Dancing In The Sheets - Shalamar
I'm Free (Heaven Helps The Man) - Kenny Loggins
Somebody's Eyes - Karla Bonoff
Girl Gets Around, The - Sammy Hagar
Never - Moving Pictures
Bang Your Head (Metal Health) - Quiet Riot
Waiting For A Girl Like You - Foreigner
Hurts So Good - John Cougar Mellencamp
Are We Missing Any?
Song Trivia

Footloose was one of the first movies to utilise the power of MTV to sell the motion picture through pop videos of the songs, released weeks before the movie came out. This is now standard practise but at the time was a significant gamble. Paramount would repeat the trick exactly a few years later with the release of
Top Gun
Kenny Loggins & Dean Pitchford were nominated for the Oscar & Golden Globe for Best Music, Song for the title song. So was Tom Snow for "Let's Hear it for the Boy."
In the sequence in which Ren is teaching Willard how to dance, they're actually dancing and singing along to "Somebody's Eyes." "Let's Hear it for the Boy" was added in post-production.
Add some more trivia about the songs used in Footloose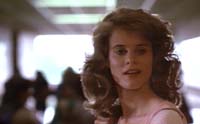 1984