FILMFACTS
TRIVIA

Escape From New York Trivia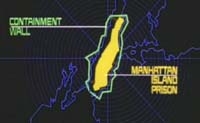 Totally Trivia
Film facts for the 1981 Action / Adventure movie starring Kurt Russell, Lee Van Cleef, Ernest Borgnine More Cast
We believe the following trivia is all legit. If it's bogus or you have additional info, please update us.
Thanks to
Rogério Barbosa
John Carpenter cameos as the guy playing the violin.
Concerning the "Metal Gear Solid" aspect, Hideo Kojima (the game's creator) based his first game on one of his favourite films, "Escape From New York"...the game's storyline apes some of the events of the film...missing president; rescuing president; lead character called 'Snake'...amongst others. A fitting tribute and one that was indeed realised in the sequel, "Metal Gear Solid 2:Sons Of Liberty, when Iriqois Plissken does make an appearance..he does resemble Solid Snake, but Solid Snake himself only has a cameo in the first part of MGS2 (the tanker level).
By the time Escape from New York was filmed, Lee Van Cleef was unable to walk without a substantial and painful limp. When his wife first saw the completed film, she commented that the scene which most surprised her was the one where Lee is shown walking to the USPF helicopter without his usual limp. She commented that Lee must have been in great pain shooting this brief walking scene, but he nonetheless pulled it off...
Snake meets a young woman and they share a quick scene before she's killed. The actress is Season Hubley, who was married to Kurt Russell at the time.
Scriptwriter Nick Castle has an unbilled part as a pianist.
Snake Plissken was an actual person, a bully who went to John Carpenter's high school.
Maggie is played by actress Adrienne Barbeau, John Carpenter's lifelong girlfriend.
Carpenter's script for Escape From New York was written with Nick Castle, a U.S.C. friend who played the masked killer, "The Shape" in Halloween and went on to direct features like "The Last Starfighter" & "The Boy Who Could Fly" himself.
In the Playstation 2 game "Metal Gear Solid: Sons Of liberty" The main character is called Snake Plisskin. His appearance and voice match Kurt's as well.
Bogus Trivia
There's often fake stuff floating round, y'know? -Like the 'ghost boy' that can allegedly be seen in "Three Men And A Baby".
But, nothing bogus that we know yet for "Escape From New York".
Next: Behind The Scenes
Or use the menu to select another option
1981 Embassy Pictures
1999-2018 fast-rewind.com
V4.0b Powered by Rewind C21 CMS