FILMFACTS
TRIVIA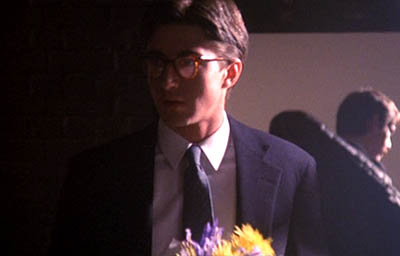 Totally Trivia
Film facts for the 1984 Romantic Comedy movie starring Lenny von Dohlen, Virginia Madsen, Maxwell Caulfield More Cast
We believe the following trivia is all legit. If it's bogus or you have additional info, please update us.
Edgar, the name of the computer is most likely named after Edgard Varese who is widely recognized as the father of electronic music.
The movie was dedicated to the Univac One, which was one of the earliest supercomputers built in the 1950's, in the days when computers were only for businesses or government and were the size of several refrigerators!
The storyline is very similar to Kurt Vonnegut's short story 'Epicac' - wherein a lovestruck computer programmer tells a computer about this girl he loves named Pat, then tells Epicac what love is - so of course, the computer falls in love with her. To demonstrate his ardor, Epicac writes poetry for her, something the human dude just can't do. When Epi learns that the girl can't ever love him, he self-destructs... But not until he leaves enough love poetry for Pat and her swain for the next 500 wedding anniversaries. Sound a little familiar ? When the credits dedicate the film to Univac, I sometimes wonder if they ment Epicac...

Rusty Lemorande, writer of Electric Dreams kindly responded:

'Electric Dreams' was based on 'Cyrano De Bergerac' (a public domain work). 'Cyrano' involves writing love poems for a pair of lovers, anonymously (as in Electric Dreams). Perhaps 'Epicac' was also based on this same classic tale. The computer in Electric Dreams does not, in fact, commit suicide. It / he moves onto the Internet (a phenomenon not yet named) in the 'surprise' ending.
Edgar, the computer was not a real computer model. He was assembled by the film makers from a pastiche of computer parts of the time.

He has a DEC VT 220 keyboard and early Apple disk drives but where does that unusual semi-integrated system unit and monitor come from? The closest that I've seen are 1970s HP terminals.

We've been waiting 30 years to solve this puzzle. Someone out there must know?! If you do, please press the update button now.
When Miles goes to the computer store, you can see the brand of the computer (Edgar), it's a Pinecone. An actual brand for its time and very pricey as well.

Rusty Lemorande, writer of 'Electric Dreams' kindly responded with:

There was no 'Pinecone Computer' company in the 80's. This was made up, and is a joke (perhaps not a very good one) playing on the 'Apple' computer line.
In the early scene where a co-worker shows Miles his pocket computer, it is a Casio PB-100 programmable computer. They had a full QWERTY keyboard and a BASIC programming language...

But no date/time planner whatsoever. Oh the irony...
Thanks to
Rusty Lemorande
The dog in the film (an Airedale Terrier) was owned by the producer / writer, Rusty Lemorande. The dog was British. His name was Winston.

When he runs out of the apartment (after being frightened by the computer) his tail is taped down with adhesive tape to create the illusion he is frightened. A dog cannot be trained to keep his/her tail down. Winston did not like this but, being a good actor, put up with it.
In The USA the tag line was:

Meet Edgar.

He'll make you sing,
make you dance,
make you laugh,
make you cry,
make you jealous,
make you nuts.
There are a few cameo roles in this movie, notably Koo Stark (one-time girlfriend of Prince Andrew) as a soap actress, and composer Giorgio Moroder as the radio station executive at the end of the movie.
"Edgar" is voiced by Bud Cort. He can be seen in the Movie M*A*S*H, and in the cult classic, "Harold and Maude"
Maxwell Caulfield ("Grease 2", "The Supernaturals", "Empire Records") plays Virginia Madsen's co-chair cello player.
Fans of Red Dwarf may recognise Miles (Lenny von Dohlen) in one of the best episodes produced, season five episode one, "Back To Reality".
If the movie seems like a music video, that's because it was directed by Steve Barron, who directed many classic videos in the 80's, including: "Take On Me" by A-Ha, "Don't You Want Me?" by The Human League, "Money For Nothing" by The Dire Straits, "Billie Jean" by Michael Jackson, Several videos for Toto and Bryan Adams ...and numerous others! Electric Dreams won him Best Director at the Madrid Film Festival, and the public Prize for the best film at the Avoriaz Fantastique Film Festival in France.
Bogus Trivia
There's often fake stuff floating round, y'know? -Like the 'ghost boy' that can allegedly be seen in "Three Men And A Baby".
But, nothing bogus that we know yet for "Electric Dreams".
Next: Behind The Scenes
Or use the menu to select another option
1984 MGM-UA
1999-2018 fast-rewind.com
V4.0b Powered by Rewind C21 CMS