Songs
Two of the most memorable music tracks in this film were written and performed by Jeff Lynne. Although Lynne is most recognized as the founder and sound of the band E.L.O., in fact Jeff has been one of the most prolific song and soundtrack writers, not to mention producer.
Jeff Lynne was the man behind Roy Orbison's big comeback, also the major contributor to The Traveling Wilbury's music and sound. Jeff Lynne was also the person chosen to assist the remaining Beatles in the production of the Songs "Real Love" and "Free as a Bird", being as John Lennon was no longer with us.
Although Giorgio Moroder has the major credits for the music in this film, Jeff Lynne gave us the upbeat, danceable and memorable tracks. In fact, "Let It Run", was originally written in 1980 and was used in part in the movie musical "Xanadu". It can be heard as a background track in the movie, but was not listed in any of the credits for the film.
The movie uses many other fabulous artists songs, including two from Culture Club, "Love Is Love", which is one of the best songs of 1984 and "The Dream", which is just "like Alice in Wonderland".
Also, Culture Club's some-time backing singer Helen Terry gets her own opportunity to shine under the production of Georgio Moroder, with "Now Your Mine". There are also some fine instrumental tracks on this album from Moroder, "The Chase" and "Madeline's Theme".
Another classic that Moroder produced is the worldwide #1 single "Together In Electric Dreams" sung by the Human League's Phil Oakey.
This album has been out of print more than 10 years in the U.S. Fortunately you can order it as an European Imported CD from our search device.
The following song tracks were featured in
Electric Dreams
:
Track names in Bold are linked to a Soundtrack release.
Electric Dreams - P.P. Arnold
Video - Jeff Lynne
The Dream - Culture Club
Now You're Mine - Helen Terry
Love Is Love - Culture Club
Let It Run - Jeff Lynne
Together in Electric Dreams - Giorgio Moroder, Philip Oakey
Together In Electric Dreams (Extended) - Giorgio Moroder, Philip Oakey
Together In Electric Dreams (Instrumental) - Giorgio Moroder
Karma Chameleon - Culture Club
Johnny Too Bad - UB40
You Can't Hurry Love - Phil Collins
Do You Really Want To Hurt Me - Culture Club
Crushed By The Wheels Of Industry - Heaven 17
Are We Missing Any?
Song Trivia

If you play "Video" from the soundtrack LP at 45rpm, it sounds EXACTLY like Cyndi Lauper. Analog or digital, play with it & find out for yourself!
-Thanks to Jon A. Gibson
The movie was made and financed as an experiment by Virgin. It featured music from the pick of the Virgin record label. It surely was an early example of synegistic marketing of movies via their soundtracks. It has often been said that Virgin were burned financially on the film, which despite massive exposure from the music, didn't make as much money as was expected at the box office. The truth is that, it did show a reasonable profit and it was, in fact, later films from Virgin which made losses. Sadly, true though, is the fact that it is now one of the few titles of merit which have disappeared almost entirely without trace.
Phil Oakey has said that he only sang "Together in Electric Dreams" once during recording. He thought it was just an initial run-through but afterwards Giorgio Moroder apparently said that he was happy and the job was done!
-Thanks to Nick
Giorgio Moroder has stated that the choice of Phil Oakey to sing the title song was not his, but the producers. In fact, he said that is normally the case and he "just has to make it work".
He did add that Phil was a nice guy and great to work with.
-Thanks to Nick
Add some more trivia about the songs used in Electric Dreams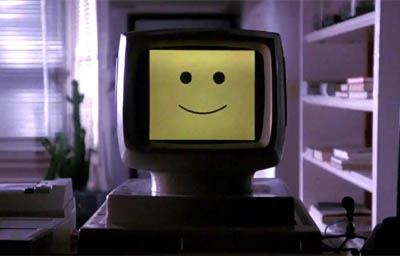 1984