Songs
Many good songs used, but sadly never released as a soundtrack to buy.
The following song tracks were featured in
Troop Beverly Hills
:
Track names in Bold are linked to a Soundtrack release.
Make It Big - The Beach Boys
Kumbaya - The Inner Voices
The Lion Sleeps Tonight (Wimoweh) - The Inner Voices
Tall Paul - Annette Funicello
Mashed Potato Time - DeeDee Sharp
Twist and Shout - The Isley Brothers
Pony Time - Chubby Checker
Hully Gully - The Olympics
Do the Freddie - Freddie & The Dreamers
When I'm Sixty Four - The Inner Voices
French Kissin' in the USA - Carol Chapman
Mandela - Pezhman Mosleh
Cookie Time - Tasha Scott
Are We Missing Any?
Song Trivia

The opening song, "Make it Big", by the Beach Boys featured in this film is a slightly different more snazzy version of the original.
Add some more trivia about the songs used in Troop Beverly Hills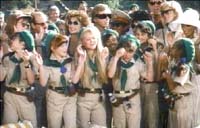 1989