Songs
This 80's classic soundtrack features the music of The Stray Cats (16 Candles), Annie Golden, Ira Newborn and the Geeks, Patti Smith and The Thompson Twins.
It's long out of print having been issued by MCA, Cat #36102. Use our search feature to find a copy.
The following song tracks were featured in
Sixteen Candles
:
Track names in Bold are linked to a Soundtrack release.
Snowballed - AC/DC
Love of the Common People - Paul Young
Kajagoogoo - Kajagoogoo
Happy Birthday - Altered Images
Kazooed on Klassics - Temple City Kazoo Orchestra
Rumours in the Air - Night Ranger
Today I Met the Boy I'm Gonna Marry - Darlene Love
True - Spandau Ballet
Wild Sex (In the Working Class) - Oingo Boingo
Little B*tch - The Specials
Growing Pains - Tim Finn
When It Started to Begin - Nick Heyward
Whistle Down the Wind - Nick Heyward
Lenny - Stevie Ray Vaughan
Ring Me Up - DiVinyls
Turning Japanese - The Vapors
Rev-Up - The Revillos
Farmer John - The Premiers
16 Candles - The Stray Cats
Hang up the Phone - Annie Golden
Gloria - Patti Smith
If You Were Here - The Thompson Twins
Young Guns (Go for It) - Wham
Rebel Yell - Billy Idol
Young Americans - David Bowie
Moving in Stereo - The Cars
New York, New York - Frank Sinatra
Do Ya - ELO
You Say It's Your Birthday - The Beatles
Geek Boogie - Ira and the Geeks
Are We Missing Any?
Song Trivia

The band, "The Rave-Ups," is written on Samantha's notebook that she takes with her to school. Her sister, the girl who played Caroline's friend Patty, had a child with a member of that band. And, in Pretty in Pink, when Molly Ringwald is in the nightclub, Cats, with her friend Jena, (played by Alexa Kenin), and Simon, (played by Dweezil Zappa), the band that is playing is The Rave-Ups. Molly Ringwald was apparently a big fan of theirs.
-Thanks to Alexi
Add some more trivia about the songs used in Sixteen Candles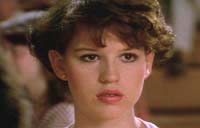 1984
Score Music
Composer(s):
Ira Newborn
Can you help with any information or a review of the instrumental score music heard in Sixteen Candles? Please Send it in by clicking Here
The following instrumental Score pieces were featured in
Sixteen Candles
:
Track names in Bold are linked to a Soundtrack release.
Long Duck Dong Theme
Filene
Oriental Chase
Party Dweebs
After Party Blues
Father-Daughter Talk
Clean Close Shave
Geek Boogie
Are We Missing Any?
Score Trivia

In the scene in the school shop classroom (the scene that ends the iconic line "Can I borrow your underpants for 10 minutes?"), the music playing in the background is an instrumental by Stevie Ray Vaughan called Lenny (named for his wife at the time, Lenora). The song can be found on his first album, Texas Flood
Add some more trivia about the instrumental music used in Sixteen Candles