Songs
The soundtrack includes the smash hit "Into The Groove" by Madonna, along with nine other tracks by artists like Iggy Pop; Run DMC; The Fixx; Carly Simon, Aretha Franklin; Junior Walker; Betty Everett; Dee Dee Sharp, and Marshall Crebshaw. It's a mix of 60's, 70's, and 80's music.
If the viewer enjoys Madonnas music from this period in her career, I highly recommend her CD titled "
You Can Dance
". It's full of great club remixes of her greatest early dance hits including "Into The Groove", "Holiday", "Spotlight" and others. This CD was released in 1987, but is mostly all music from her "Desperately Seeking Susan" days.
The following song tracks were featured in
Desperately Seeking Susan
:
Track names in Bold are linked to a Soundtrack release.
Into the Groove - Madonna
Are We Missing Any?
Song Trivia

The song "Rosanna" by the band Toto was written for and about Rosanna Arquette.
The song "In Your Eyes" by Peter Gabriel was also written about Rosanna Arquette. It is most popular from it's appearance in "
Say Anything
".
-Thanks to Lucky
Add some more trivia about the songs used in Desperately Seeking Susan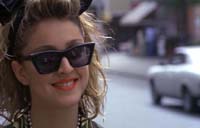 1985