FILMFACTS
PRODUCTION

Making Desperately Seeking Susan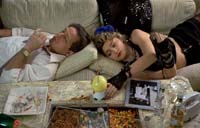 Production
Go behind the scenes on the 1985 Romantic Comedy movie starring Madonna, Rosanna Arquette, Aidan Quinn More Cast
We believe the following info is all legit. If it's bogus or you have additional info, please update us.
A worker on the set of Desperately Seeking Susan said Madonna's dalliances were no secret. "Her trailer would be rocking back and forth like there was an earthquake or something. 'Like A Virgin' had just come out, so we all had a good laugh. But when it came to work, she was a total professional."
At their first meeting, Seidelman said Madonna was "Vulnerable, sweet, even a little bit nervous. There was none of the arrogance for which she was already becoming famous. And she had a sense of humor. Given what I'd been told about her, I wasn't at all sure she'd have one."
When Madonna arrived for the audition, Seidelman recalled, "She got out of the cab, but she didn't have enough money to pay. So here she is meeting with a bunch of movie people for a job, and the first thing she does is hit us up for cab fare. It was exactly what Susan would have done!"
Madonna had considerable control over the role: She did her own hair and makeup, supplied her own wardrobe, and injected Susan with her own brand of self confidance.
The alternate ending featured on the DVD of Madonna and Roseanna on camels was the original ending for the film. But when they showed it to test audiences they thought the film ended at the cinema scene. Once that was shown everyone got up to leave so they cut the film to end there.
When director Susan Seidelman heard that the hottest singer in town was interested in the part of Susan, she invited Madonna to come in for a screentest. The heads at Orion Pictures, however, were reluctant to cast an untested actress, but producer Midge Sanford was captivated. Of Madonna, Sanford said, "She had this prescence you couldn't get rid of."
When there was a 6 A.M call to film a scene for "Desperately Seeking Susan", Madonna's driver would pick her up at a health club every morning where she'd already done 50 laps by 6 A.M.
Madonna was trying to lose weight or rather not to gain any, so when the script called for her to be eating she'd spit out the food at the end of each take.
200 actresses tried out for the part of Susan including Rebecca De Mornay, Melanie Griffith, Jennifer Jason Leigh, Ellen Barkin, and Kelly McGillis.
Desperately Seeking Susan had been floating around Hollywood for four years before it was optioned by Orion Pictures. The producers decided to go for a modest movie, allowing only a bargain-basement budget of $5 million.
Next Section: Deleted Scenes
Deleted Scenes
There are often scenes cut from the final version of a movie. Sometimes these will have been seen by preview audiences, or be included in Blu-ray or DVD extras etc.
Shucks.. We don't know of
any
cut scenes from "Desperately Seeking Susan".
Can you help?
Please
add one
for others to enjoy.
It's quick & easy
Next Section: Alternate Versions
Alternate Versions
Sometimes, there will be several versions of a movie floating about on cable, tv or video etc. Other times, a Director may release a special cut of the movie on Blu-ray or DVD.
Aw, man.. We don't know of
any
alternate versions of "Desperately Seeking Susan". If
you know
better, please
add one
for others to enjoy.
It's quick & easy
Jump To: Filming Locations
Or use the menu to select another option
1985 Orion Pictures
1999-2018 fast-rewind.com
V4.0b Powered by Rewind C21 CMS