Songs
This movie includes some memorable 50's hits.
The following song tracks were featured in
Mischief
:
Track names in Bold are linked to a Soundtrack release.
Sweet Little Sixteen - Chuck Berry
Blueberry Hill - Fats Domino
Young Love - Tab Hunter
Maybe Baby - Buddy Holly, The Crickets
School Days - Chuck Berry
I'm in Love Again - Fats Domino
Love Is Strange - Mickey and Silvia
Be-Bop-a-Lula - Gene Vincent
One Summer Night - The Danleers
Ain't That a Shame - Fats Domino
Since I Met You Baby - Ivory Joe Hunter
It Only Hurts for a Little While - The Ames Brothers
Everyday - Buddy Holly, The Crickets
My Prayer - The Platters
A Lover's Question - Clyde McPhatter
The Great Pretender - The Platters
Peggy Sue - Buddy Holly, The Crickets
At the Hop - Danny and the Juniors
Since I Don't Have You - The Skyliners
Don't Be Cruel - Elvis Presley
It's All in the Game - Tommy Edwards
Heart and Soul - The Cleftones
Rip It Up - Little Richard
That'll Be the Day - Buddy Holly, The Crickets
See You Later Alligator - Bill Haley and The Comets
I'm In Love Again - The Fontaine Sisters
Love Me Tender - Elvis Presley
Are We Missing Any?
Song Trivia

In the scene where Gene is trying to teach Jonathan how to act in front of Marilyn. The song playing in the background is "No Particular Place to Go" by Chuck Berry. The movie Mischief was supposed to be set in the 1950s right? Well, that hit by Berry wasnt even released until 1964.
-Thanks to Phil
In the movie at the prom they play "Since I met you baby" at the prom dance but its not the same Ivory Joe Hunter version. Who was the artist?
Add some more trivia about the songs used in Mischief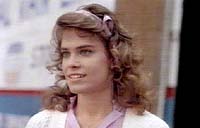 1985