Songs
There never was a soundtrack for this movie, but the movie's theme song, "Invincible," was another top 20 hit for Pat Benatar.
The following song tracks were featured in
The Legend of Billie Jean
:
Track names in Bold are linked to a Soundtrack release.
Invincible - Pat Benatar
It's My Life - The Plasmatics
Boys in Town - The Divinyls
Heart Telegraph - The Divinyls
Rebel Yell - Billy Idol
Time To Explain - Bruce Witkin & the Kids
Closing In - Mark Safan
Self-Defense - Chas Sanford
Are We Missing Any?
Song Trivia
Do you know any interesting trivia about the songs used in The Legend of Billie Jean? Please send it in by clicking Here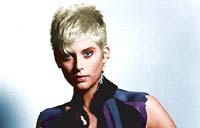 1985