Songs
The soundtrack of course is very 80's poppy and upbeat.
The memorable song from the end credits, with lots of bell sounds, is "Tonight You're Mine" by Ronnie Spector.
The following song tracks were featured in
Just One Of The Guys
:
Track names in Bold are linked to a Soundtrack release.
Just One of the Guys - Shalamar
Girls Got Something Boys Ain't Got - Midnight Star
Tonight You're Mine - Ronnie Spector
Prove It To You - Dwight Twilley
Jealous - Berlin
Way Down - Billy Burnette
Burning - Jay Davis / Tony Brock
Thrills - Greg French
Hard Way - Jay Davis / Tony Brock
Guy Talk - Tom Scott
Trouble - Lindsay Buckingham
Down on The Street - The Stooges
Gone Too Far - Neurotica
Turn Out Right - Private Domain
Comb My Hair - Johnny Lyon
Are We Missing Any?
Song Trivia

The song "Bones" by The Bonedaddys is incorrect in the film credits. The actual title is "The Bone". It plays as background music during the first lunch room scene.
-Thanks to Phaota
Add some more trivia about the songs used in Just One Of The Guys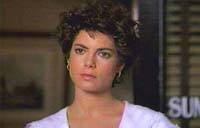 1985