Songs
Besides Bobby Brown's hit "Own Our Own," the soundtrack also includes songs from ex-Eagles member Glenn Frey, music legend Elton John, rap stars RUN-D.M.C. (who perform a rap version of Ray Parker Jr.'s hit song), Oingo Boingo (who said Danny Elfman would never touch anything related to Ghostbusters?!?), and many other R&B artists.
Import Only. Use our search feature to find it.
The following song tracks were featured in
Ghostbusters II
:
Track names in Bold are linked to a Soundtrack release.
On Our Own - Bobby Brown
Promised Land - James "J.T." Taylor
We're Back - Bobby Brown
Spirit - Doug E. Fresh,
Ghostbusters - Run D.M.C.
Flesh 'N Blook - Oingo Boingo
Love Is a Cannibal - Elton John
Flip City - Glenn Grey
Higher and Higher - Howard Huntsberry
Are We Missing Any?
Song Trivia

The film's song "Love is a Cannibal", written and performed by Elton John, can be found on the remastered version of his album, "Sleeping With the Past", as one of the bonus tracks.
-Thanks to Amy Green
Add some more trivia about the songs used in Ghostbusters II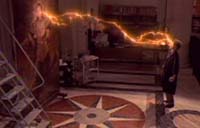 1989