Songs
The classic 80's soundtrack includes the massive hits "What a feeling" and "Maniac" -it has always been readily available on CD. For some reason it doesn't include the song that Jeanie ice skates to, which was "Gloria" by Laura Branigan.
About 5 years ago a digitally remastered special edition was released with greatly improved sound quality. Use our search feature to find a copy.
The following song tracks were featured in
Flashdance
:
Track names in Bold are linked to a Soundtrack release.
Flashdance...What a Feeling - Irene Cara
He's a Dream - Shandi
Manhunt - Karen Kamon
Lady, Lady, Lady - Joe Esposito
Imagination - Laura Branigan
Romeo - Donna Summer
Seduce Me Tonight - Cycle V
I'll Be Here Where the Heart Is - Kim Carnes
Maniac - Michael Sembello
Gloria - Laura Branigan
I Love Rock and Roll - Joan Jett and the Blackhearts
Are We Missing Any?
Song Trivia

Despite having a worldwide #1, Irene Cara, who sung "Flashdance: What a feeling" was apparently shamefully robbed by the record company.
Only after a long and horrific legal battle did she start to see any proper royalties.
-Thanks to Nick
I worked at a Pittsburgh movie theater as an usher when the movie was released and in the trailers for the upcoming film, the title song was sung by a man and not Irene Cara. It had different lyrics than the existing version "Flashdance...what a feeling". I think the lyrics had something to do with "making your dreams come true"...I don't know the singer or the exact lyrics and have always been curious as to who may be singing, I have always thought it may be the man who sang "Lady, lady, lady" on the soundtrack and in the film.
-Thanks to Jobin Damm
The song "Maniac" was originally written for a horror movie called "Maniac". Michael Sembello decided to change the whole idea of the song from a murderer to a girl who loves to dance.
Giorgio Moroder, Keith Forsey & Irene Cara won the Oscar & Golden Globe for the title song.
Irene Cara won People's Choice Awards for the film's title song in the Favorite Motion Picture Song & Favorite Young Performer Song categories.
The soundtrack sold more than 700,000 copies in the first two weeks of release. The title tune "Flashdance...What A Feeling" was a number one single for six weeks, and went on to become platinum. Irene Cara won a Grammy for this song ("What A Feeling"), and also co-wrote it with Keith Forsey and Georgio Moroder. In 2001, she and DJ Bobo created an awesome remix.
-Thanks to Nick Napolitano
Moroder and Forsey had to convince Irene Cara to sing the title song. she didn't want another "Fame" experience, but she changed her mind and co-wrote the lyrics within an hour on the way to the studio after seeing the big finale dance scene.
-Thanks to Eric Ward
Add some more trivia about the songs used in Flashdance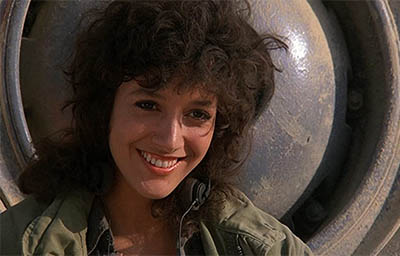 1983