Songs
There are some ok backing tracks in the movie (again, typical of the time) and the only song that really stands out is a pretty long rendition of 'I Get Around' by the Beach Boys. To our knowledge, these have never been released as a soundtrack.
Can you help with song track list for Flight Of The Navigator?
Song Trivia

The music video on tv in the scene with Sarah Jessica Parker's character and David at the base is 'lose your love' by blancmange.
-Thanks to Steve
As the Freemans arrive home from the frisbee tournament, the song on the car radio is "You're The One That I Want", from the 1978 musical "Grease", also directed by Randal Kleiser.
-Thanks to C.T. Warren
The trailer includes a snippet of the song "I Finally Found A Home" by Huey Lewis & The News, but the song is never heard in the movie. It's still common practice to use hit songs in trailers without playing them in the film.
-Thanks to C.T. Warren
The Beach Boys were experiencing a resurgence in popularity during the late 80's, and "I Get Around" was used in at least two other films besides this one: "Good Morning, Vietnam" (which was set in the 60's), and the opening scene of "Look Who's Talking".
-Thanks to C.T. Warren
The cures' song "Man in my mouth" is used in the car scene but adapted by Guy Moon and David Kitay for a song called "Trapped in my mind."
Add some more trivia about the songs used in Flight Of The Navigator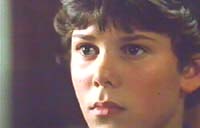 1986