Songs
Piano Man Billy Joel wrote and recorded the title theme. The soundtrack is currently unavailable, but the song is available on Joel's album Innocent Man.
The following song tracks were featured in
Easy Money
:
Track names in Bold are linked to a Soundtrack release.
Easy Money - Billy Joel
Love's Got a Line on You - Scandal
It's Raining Men - The Weather Girls
In the Beginning - Heaven, Heaven
We Want Action - Nick Lowe
Funiculý, FuniculÓ - Rodney Dangerfield
Are We Missing Any?
Song Trivia

In the mid 80's, metal legends Anthrax released the ep "I'm The Man", with the title track a homage to this movie. In the chorus they even sing "I'm so bad I should be in detention".
-Thanks to Frank Bissaillon
Add some more trivia about the songs used in Easy Money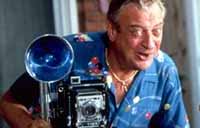 1983