Songs
An eclectic mix of new n' old make this a classic soundtrack, opening with Starship's "Wild Again" (not a patch on "Waiting For A Star To Fall") it picks up about half way with the GA Satellites bar anthem "Hippy Hippy Shake" and Bobby McFerrin's smooth classic "Don't Worry, Be Happy".
The Beach Boys steal the album with "Kokomo", whilst John Cougar Mellancamp revives the 80's almost as well as Kenny Loggins. Later on, Ry Cooder does a passable cover of "All Shook Up" (although Ricky Van Shelton would've done it better). This sets us up for the closing track, and old time rock n' roll hit: "Tutti Frutti" by Little Richard. Like the movie, this is a light, but pretty good album -and hey: it'll sound even better if you're sober...
The following song tracks were featured in
Cocktail
:
Track names in Bold are linked to a Soundtrack release.
Wild Again - Starship
Powerful Stuff - The Fabulous Thunderbirds
Since When - Robbie Nevil
Don't Worry, Be Happy - Bobby Mcferrin
Hippy Hippy Shake - The Georgia Satellites
Kokomo - The Beach Boys
Rave On - John Mellencamp
All Shook Up - Ry Cooder, John Mellencamp
Oh, I Love You So - Preston Smith
Tutti Frutti - Little Richard
This Magic Moment - Leroy Gibbons
Shelter Of Your Love - Jimmy Cliff
Chantilly Lace - The Big Bopper
Addicted to Love - Robert Palmer
When Will I Be Loved - The Everly Brothers
That Hypnotizin' Boogie - David Wilcox
Essential Sensual - Wayne Roland Brown
Are We Missing Any?
Song Trivia

Did you know that the feature song 'Kokomo' from the Beach Boys, is actually about a real place. As the song says, "off the Florida Keys, there's a place called Kokomo", it is a bar in a resort called The Holiday Isle in Isla Morada. So get there fast and then take it slow, way down in Kokomo.
Add some more trivia about the songs used in Cocktail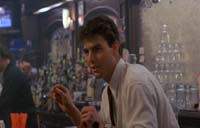 1988