Songs
After watching this movie as a child I was addicted to "Every Breath You Take" which is a cover by stuidio artists of the original by The Police. It was used so well in the movie! Twist And Shout and 96 Tears are also cover versions [Ed note; thanks to chadergeist for pointing out that they are cover versions but we've left the original artist names in the list below as those are the songs that people will look up if they've heard them in the movie].
Also used was "Cat's Eye" by Ray Stephens, "96 Tears" by The North Orchestra, and Twist and Shout. The score was composed by Alan Silvestri.
The following song tracks were featured in
Cat's Eye
:
Track names in Bold are linked to a Soundtrack release.
Every Breath You Take - The Police
Cat's Eye - Ray Stephens
96 Tears - The North Orchestra
Twist and Shout - Phil Medley, Bert Russell
Are We Missing Any?
Song Trivia

The song that was playing on the record player when General and the breath stealing troll were fighting is actually a cover of "Every Breath You Take" by The Police.
The studio had to have other artists to do the cover versions of the songs in the film cause it was too expensive to use the actual original versions.
-Thanks to Nate / chadergeist
Add some more trivia about the songs used in Cat's Eye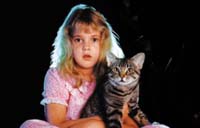 1985