Songs
The film's complete soundtrack has got a lot of variety going for it, ranging from the styles of John Fogerty and Joe Cocker to Edith Piaf and the Everly Brothers. None of the songs seem extraneous either; they all tie in very well with the movie.
However, the released soundtrack album (which goes for big bucks nowadays) sticks mainly to bluesy rock and hard rock, with Cocker, George Thorogood & Los Lobos headlining.
The following song tracks were featured in
Bull Durham
:
Track names in Bold are linked to a Soundtrack release.
A Woman Loves A Man - Joe Cocker
Can't Tear It Up Enuff - Fabulous Thunderbirds
I Got Loaded - Los Lobos
Born To Be Bad - George Thorogood & The Destroyers
So Long Baby, Goodbye - The Blasters
Middle Of Nowhere - House Of Schock
Centerfield - John Fogerty
You Done Me Wrong - Pat McLaughlin
Try A Little Tenderness - Bennie Wallace, Dr. John
All Night Dance - Bennie Wallace, Dr John, Stevie Ray Vaughn
Love Ain't No Triple Play - Bennie Wallace, Dr. John, Bonnie Raitt
60 Minute Man - The Dominoes
Only a Memory - The Smithereens
I Idolize You - Ike and Tina Turner
Non, Je Ne Regrette Rien - Edith Piaf
La Vie En Rose - Edith Piaf
Are We Missing Any?
Song Trivia
Do you know any interesting trivia about the songs used in Bull Durham? Please send it in by clicking Here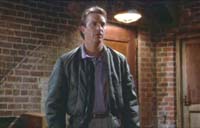 1988