Songs
The excellent 80's 'pop' soundtrack was produced on CD in the early 90's and although sometimes hard to find, our search facility can find it new for you for as little as $10.
The following song tracks were featured in
About Last Night
:
Track names in Bold are linked to a Soundtrack release.
So Far So Good - Sheena Easton
(She's The) Shape Of Things To Come - John Oates
Natural Love - Sheena Easton
Words Into Action - Jermaine Jackson
Step By Step - J.D. Souther
Living Inside My Heart - Bob Seger
Trials Of The Heart - Nancy Shanks
'Til You Love Somebody - Michael Henderson
If We Can Get Through The Night - Paul Davis
True Love - The Del Lords
If Anybody Had A Heart - John Waite
Are We Missing Any?
Song Trivia

There was a music video made for Sheena Easton's "So Far, So Good". In it, she sang the song while essaying the role of an ad agency worker coming up with a campaign for the movie. Footage from the movie was featured throughout the video. If you're a VH1 Classic freak, you may catch this video on there.
Add some more trivia about the songs used in About Last Night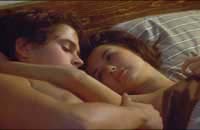 1986