FILMFACTS
PRODUCTION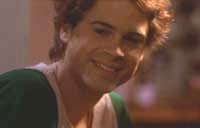 Production
Go behind the scenes on the 1986 Teen Drama movie starring Rob Lowe, Demi Moore, James Belushi More Cast
We believe the following info is all legit. If it's bogus or you have additional info, please update us.
Originally, "About Last Night" was to be made with John Belushi and Dan Aykroyd (The Blues Brothers! No way!), but after John Belushi asked his brother James Belushi, (who had actually starred in the original broadway version) about the role, James Belushi asked that he did not want John to take the part because Jim didn't want to be compared with his brother.
During the scene where they break up at the apartment, the last line Rob Lowe says about not loving her anymore was improvised as Demi was having trouble crying. The line actually reduced her to real tears.
Principal photography began on October 21st 1985 and wrapped on December 23rd of the same year.
The name of the movie was changed to "About Last Night" prior to release when the major TV networks warned that they would never air a movie that had 'perversity' in the title.
Mother's, the bar that is the central watering hole throughout the film, is actually a downstairs bar in Chicago. They only used the actual front entrance and built a special bar set for the movie that makes it look like its at street level. I visited the actual Mother's on a business trip in 1989.
Phoebe Cates auditioned for the role of Debbie, which later went to Demi Moore.
Next Section: Deleted Scenes
Deleted Scenes
There are often scenes cut from the final version of a movie. Sometimes these will have been seen by preview audiences, or be included in Blu-ray or DVD extras etc.
Shucks.. We don't know of
any
cut scenes from "About Last Night".
Can you help?
Please
add one
for others to enjoy.
It's quick & easy
Next Section: Alternate Versions
Alternate Versions
Sometimes, there will be several versions of a movie floating about on cable, tv or video etc. Other times, a Director may release a special cut of the movie on Blu-ray or DVD.
The following versions of About Last Night are apparently real. If you disagree or have additional info, please update us.
There are two versions of the movie 'About Last Night'. The regular version we all know and love and a censored version of the movie for TV. Changes in the cut version are as follows: (1) When Dan and Bernie are in their office, they talk and suddenly their boss enters the room. They pretend to be on the phone. In the normal version they give him the finger, in the censored version the make fun of him by putting their thumb against their nose and waving their fingers. (2) While Dan and Debbie make love to Bob Seger's 'Living inside my heart' in the normal version, they throw an American football to each other in the censored version. (3) When Debbie moves out of the appartment she shares with Joan, they seperate the pieces. After Joan asks 'Can Debbie come by on tuesday night', Danny says 'Haha, that's funny, why don't you take this thing and shove it up your a*** in the normal version. In the censored version he says 'Haha, that's funny, why don't you take this thing and shove it up your throat'.
In the normal version, they walk into the kitchen naked, but in the censored version, they are wearing robes.
Jump To: Filming Locations
Or use the menu to select another option
1986 Tri Star Pictures
1999-2018 fast-rewind.com
V4.0b Powered by Rewind C21 CMS