FILMFACTS
PRODUCTION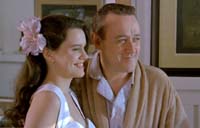 Production
Go behind the scenes on the 1989 Teen Drama movie starring John Cusack, Ione Skye, John Mahoney More Cast
We believe the following info is all legit. If it's bogus or you have additional info, please update us.
The deleted scenes are as follows:

1.) An extended speech in which Diane, fully made-up, & Lloyd are standing by his car, she has just found out her dad is guilty. Lloyd encourages her to talk to her father because he wasted valuable years not speaking to his father for a while. My speculation is that the scene was cut and the one in the film made it because we feel more sympathy towards Diane (and it's more believable) that she totally looks like crap over this ordeal with her father (no make-up, dark circles). We also feel more sympathy towards Lloyd who just got knocked out in his kick-boxing match & is bleeding.

2.) A scene in court in which Mr. Court is justifying and validating his bad behavior by holding up a picture of then president Reagan and is basically saying we live in a greedy society in which the elderly are overlooked & receive poor or no care.

3.) Many takes of Cusack holding up the boombox and having problems holding it at the right height.

4.) Many scenes in which Lloyd is in the phone booth, telling his sister Diane just broke up with him. We do not hear his sister respond to what he's saying at the other end of the line.

5.) Diane's graduation speech is extended.

6.) A short conversation in which Diane is being a smart-ass to her mom's boyfriend is added, after the conversation in which Diane pleads for her mom to say something nice about her dad when the IRS asks her questions.

7.) An extended conversation between the lawyers making a settlement when Mr. Court is outside eavesdropping and looking upset about his fate.

8.) A scene at the retirement home in which Lloyd is walking and talking with an elderly man.

9.) A scene in which the guy that worships Lloyd is in the backseat, hung over & babbling up a storm.

10.) Many takes of Lili Taylor practicing her Joe songs and a huge green stuffed animal is very visible and distracting in the background.

11.) A scene in which 1 of Mr. Court's friends/co-workers excuses herself from the table and goes out to have a smoke and her and Lloyd have a brief conversation.

12.) An extended scene between Corey and Joe in the kitchen at the party.

13.) An extended scene in which we hear what the IRS guys are saying before they knock on the door and their conversation with Mr. Court as he and Diane open the door.
Originally, Cusack was very hesitant to take the part because he was trying to break out of playing teens & star as adults in (e.g. The Grifters) but when Crowe had him read the script, he was won over.
Thanks to
Nick Napolitano
There were many different takes of the famous "In Your Eyes" scene. There was one when Lloyd was in the middle of the street with the boombox on the car. Then they did one when he stood in the park, holding it in the air, and chewing gum. The gum made him look indifferent, so they did one with him holding it up without the gum, but he looked bored. Finally, they got the shot that was used in the movie.
John Cusack's sister in the movie is his sister in real life too. Not only did Joan play his sibling in the movie Say Anything, but in the scene where John is talking to Joan on the phone about Diane breaking up with him John actually arranged it so he could talk to his sister while doing the scene. They recited the actual lines to each other and on film he is in fact talking to his sister.
The kickboxing dojo used was the same dojo as The "Cobra Kai" dojo seen in "The Karate Kid".
The kickboxer that is sparring with Lloyd Dobler is non-other than Don "The Dragon" Wilson. Lloyd makes several references to him throughout the film.
Loren Dean, who plays Joe, originally auditioned for the part of Lloyd. Cameron Crowe didn't see him as Lloyd but thought he was perfect for Joe and auditioned him for that.
The curly haired geek who looks up to Lloyd was played by the son of Elliot Gould and Barbra Streisand. He also plays Barbra Streisand's son in The Prince of Tides.
Other actresses considered for Diane: "Jennifer Connelly was the runner-up to Ione Skye. She was brilliant; she had all the languages... Elisabeth Shue did an amazing version of the graduation speech. But there was something haunting about Ione in River's Edge. I had an instinct that Ione was right" -Cameron Crowe.
Julia Roberts, fresh from her role in "Mystic Pizza" in which she co-starred with Lili Taylor (Lloyd Dobbler's friend Corey) had actually auditioned for the role of Corey's friend D.C. but Amy Brooks won the part. However, Julia would still have a chance to play lead opposite John Cusack several years later in "America's Sweethearts."
Lawrence Kasdan (The Big Chill) was originally slated to direct the film.
Lloyd Dobler's character was actually based on Cameron Crowe's kickboxing neighbor, Lowell. He was having trouble writing the script for this movie and making it believable and that darn annoying kid kept bothering him about his passion for kickboxing...as he dicussed this with his friend and fellow movie maker Rob Reiner, he said... "write what you know" and Lloyd Dobler was born.
Next Section: Deleted Scenes
Deleted Scenes
There are often scenes cut from the final version of a movie. Sometimes these will have been seen by preview audiences, or be included in Blu-ray or DVD extras etc.
Shucks.. We don't know of
any
cut scenes from "Say Anything".
Can you help?
Please
add one
for others to enjoy.
It's quick & easy
Next Section: Alternate Versions
Alternate Versions
Sometimes, there will be several versions of a movie floating about on cable, tv or video etc. Other times, a Director may release a special cut of the movie on Blu-ray or DVD.
Aw, man.. We don't know of
any
alternate versions of "Say Anything". If
you know
better, please
add one
for others to enjoy.
It's quick & easy
Jump To: Filming Locations
Or use the menu to select another option
1989 20th Century Fox
1999-2018 fast-rewind.com
V4.0b Powered by Rewind C21 CMS