Songs
The movie is, of course, remembered by many people for the scene (pictured on the video cover and used extensively in the marketing for the movie) where Lloyd (Cusack) plays a favourite song of Diane's (Skye) ouside her window on a portable stereo in an symbolic and touching attempt to win her back after a break up. The song used is by Peter Gabriel, called "In Your Eyes".
The following song tracks were featured in
Say Anything
:
Track names in Bold are linked to a Soundtrack release.
All for Love - Nancy Wilson
Cult of Personality - Living Colour
One Big Rush - Joe Satriani
You Want It - Cheap Trick
Taste the Pain - Red Hot Chili Peppers
In Your Eyes - Peter Gabriel
Stripped - Depeche Mode
Skankin' to the Beat - Fishbone
Within Your Reach - The Replacements
Keeping the Dream Alive - Freiheit
Lloyd Dobbler Rap - Original Cast
Ricky Dont Lose That Number - Steely Dan
Take Five - David Brubeck
Crown of Thorns - Mother Love Bone
Are We Missing Any?
Song Trivia

The song "In Your Eyes" from Peter Gabriel was written for/about Rosanna Arquette.
-Thanks to Valerie
Peter Gabriel asked to see part of the movie before he would give permission to use 'In Your Eyes'. Director Cameron Crowe had the production company send him an unfinished cut. Gabriel responded by saying he would let them use the song, as he liked the film. He was, however, wary about the part where the lead character overdosed at the end. It was then that Crowe realized that Gabriel had been sent a copy of Wired instead!
-Thanks to Burnett
The Smithereens were asked to write the theme song for the movie. They wrote "A Girl Like You". Crowe thought that the lyrics gave away too much of the plot and so he chose Peter Gabriel's "In Your Eyes" instead.
The part where John Cusack holds up the boombox, the radio was actually playing a song by the group, Fishbone. "In Your Eyes" by Peter Gabriel, was added in post production.
-Thanks to Luke
Cameron Crowe's wife, Nancy Wilson (lead guitarist of the band Heart) and Ann Wilson (Lead singer for Heart) contribute music to the film with the song "All For Love", which is played during the movie and was the song used in one of the two trailers on the Special Edition DVD.
-Thanks to Matt
Add some more trivia about the songs used in Say Anything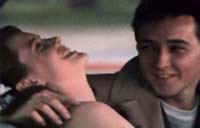 1989