FILMFACTS
PRODUCTION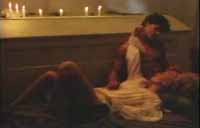 Production
Go behind the scenes on the 1986 Action / Adventure movie starring Craig Sheffer, Virginia Madsen, Jon Polito More Cast
We believe the following info is all legit. If it's bogus or you have additional info, please update us.
Fire with Fire was inspired by the article "Something's Coming, Something Good" by Sharon Boorstin in the July 17, 1978 edition of New West Magazine, which told a story of a young man in a probation camp in L.A. and a girl who attended Alverno High School in Pasadena, California, a women's Catholic school.

The article dealt with the two young people meeting each other at a school dance put on for the boys.

Screenwriters Bill Phillips, Warren Skaaren and Paul & Sharon Boorstin slightly altered that set up and created the rest of the story which leads up to the dance and follows the young lovers through the thrilling climax.
"Fire With Fire" was Director Duncan Gibbins' feature film directorial debut after an enormously successful career as a producer and director of music videos.

He had previously created videos for such blockbuster groups as the Eurythmics, WHAM as well as scores of others in his native England. It was Gibbins work on his "Smuggler's Blues" to Glen Frey's clip that won him the 1985 MTV Award for the Best Concept Video.

He tragically died at just 41 years old, in the L.A. fires while trying to rescue his Seal-Point cat, Elsa, who survived.

Gibbins had lived in a guest house on a 10-acre estate owned by Peter Alexander, an art dealer, who fled the blaze that started near the property.
"Fire With Fire" was screenwriter Warren Skaaren's big break.

In 1983, he had just completed the script OF EAST AND WEST, about Nepalese soldiers the Gurkhas. Although the script was never produced, it gained Skaaren an agent, Mike Simpson at the William Morris Agency and attracted the attention of Dawn Steel at Paramount, who hired Skaaren to rewrite the screenplay of "Fire With Fire".

Following this movie, Skaaren was hired to rewrite the script of TOP GUN and it's huge box-office success established his reputation as a "script doctor." Skaaren later went on to work on the scripts of BEVERLY HILLS COP II, BEETLEJUICE, and BATMAN.

Skaaren tragically died prematurely of bone cancer in Austin, Texas, on December 28, 1990.
Next Section: Deleted Scenes
Deleted Scenes
There are often scenes cut from the final version of a movie. Sometimes these will have been seen by preview audiences, or be included in Blu-ray or DVD extras etc.
The following missing scenes from Fire With Fire are believed legit. If you disagree or have additional info, please update us.
It sure seems to me that a scene was cut from the "school dance." When Lisa dances with another guy, Joe looks on. The guy gets fresh with Lisa and grabs her tie. She pulls away from the guy and he lets go of her tie and she walks away. Then, in the next scene, Joe and Lisa are sitting together at the dance. This is where I think a scene was cut. Something tells me that Joe came to Lisa's aid and consoled her. He probably even straightened her tie and fixed her collar as the guy who grabbed her tie pulled it loose and crooked. When we see Joe and Lisa talking (and Joe is explaining about why he was sent to the camp for juvenile delinquents), Lisa's tie is tied on straight and her collar is fixed.
I'm not sure which version everyone has but the version that I own has a scene at the dance in between Lisa dancing with Baxter and the scene where they are sitting on the table talking.

The scene isn't very long but it's pretty critical.

After Baxter grabs Lisa she walks away but Joe loses her in the crowd long enough for her to wind up behind him. That's when she introduces herself and they speak for the first time.

She asks him to dance and during the dance (slow dance) they talk. He asks her if she saw him in the forest and she smiles and replies, "Of course I saw you. That's why you're here." And he finally figured it out. From that point on, they are together.

Big scene to cut out on any version! I love it because she is the dominant one and anyone can see that he is surprised, for once, to be the one that's taken care of. At least in my opinion.
Next Section: Alternate Versions
Alternate Versions
Sometimes, there will be several versions of a movie floating about on cable, tv or video etc. Other times, a Director may release a special cut of the movie on Blu-ray or DVD.
Aw, man.. We don't know of
any
alternate versions of "Fire With Fire". If
you know
better, please
add one
for others to enjoy.
It's quick & easy
Jump To: Filming Locations
Or use the menu to select another option
1986 Paramount Pictures
1999-2018 fast-rewind.com
V4.0b Powered by Rewind C21 CMS