FILMFACTS
PRODUCTION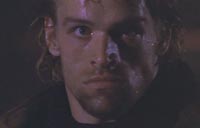 Production
Go behind the scenes on the 1986 Action / Adventure movie starring Sylvester Stallone, Brigitte Nielsen, Reni Santoni More Cast
We believe the following info is all legit. If it's bogus or you have additional info, please update us.
I am in the movie and was a part of the intro set at the supermarket as the Swat Team Commander. The line "Freeze Slimeball" was ad-libbed after George Cosmotos heard the extras saying it on the set..
Thanks to
Isabelle Norlund
Stallone was originally going to play Axel Foley in "Beverly Hills Cop", but he changed the concept into Cobra instead. He and the directors couldn't decide if it would be an action or a funny movie, so Stallone did this wonderfull movie!
"AWSOM 50", driven by Cobretti in the film was a custom 1950 Mercury - hence the licence plate.

The studio commissioned four cars from Dean Bryant, Car Builder for the Stars. One was used for normal driving and interior shots and Sly still owns that one. The other three were stunt cars and were driven by stunt drivers. They all had race car-like appointments instead of those of a street cruiser (poseur?).

Two of them were destroyed in filming and one is the sole surviving stunt car. It has a full cage and Recaro race seats. The current owner raced the car in the Carrera PanAmericana VII back in the late 80's. He also attempted to break the Land Speed Record for supercharged flat head V8's with it in 1989, but fell 3mph short. As of August 2002, this car was for sale on Ebay!!!

Ariel Millaire kindly updated us: One of the 1950 Mercury used in the film was, as mentioned, owned by Sylvester Stallone until a few years ago when it was stolen from storage. Some time later an unknown person contacted Stallone and asked if he wanted to buy it back. He declined. To this day it is still missing. (Source is Stallone himself in an interview with the fans on the site Ain't it cool news)
The cars were built at Customs by Eddie Paul in El Segundo Ca.
Next Section: Deleted Scenes
Deleted Scenes
There are often scenes cut from the final version of a movie. Sometimes these will have been seen by preview audiences, or be included in Blu-ray or DVD extras etc.
Shucks.. We don't know of
any
cut scenes from "Cobra".
Can you help?
Please
add one
for others to enjoy.
It's quick & easy
Next Section: Alternate Versions
Alternate Versions
Sometimes, there will be several versions of a movie floating about on cable, tv or video etc. Other times, a Director may release a special cut of the movie on Blu-ray or DVD.
The following versions of Cobra are apparently real. If you disagree or have additional info, please update us.
There may very well be two versions of the film. On a recent syndicated version, there was a scene included that does not appear on the DVD or VHS. It is a short clip where a policeman opens a special delivery which turns out to be the chopped-off hands of an unknown person. The police desk phone immediately rings, when the officer picks up, we hear the nightslasher say, "Her hands are with you, her soul is in the new world. "
When movie was about to come out, it was originally rated X and much longer. It was then edited so much that many plot parts and character development scenes were simply deleted. Even the action scenes were drastically cut because of too much violence or for better pacing.

Some people mentioned that there was about 30 or 40 minutes cut from movie, maybe more.

Most of the violence is also cut, which is why scenes like hospital murders or final shootout look so choppy.

There is a workprint available that is over 2+ hours long and has all of the deleted material, but it is sourced from very low quality VHS.
Jump To: Filming Locations
Or use the menu to select another option
1986 Cannon Films / Warner Bros
1999-2018 fast-rewind.com
V4.0b Powered by Rewind C21 CMS