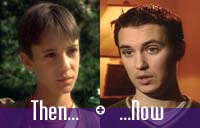 1986

Featured Movie Location:
The town of "Castle Rock"
Wanna see the real life filming location used for
The town of "Castle Rock"
in the movie? These scenes were actually shot at
Brownsville Town
, located in Brownsville,
Oregon
. [
Google Map
]
Locations Manager(s):
On Location
Stand By Me
was filmed at locations in Brownsville, Eugene and Cottage Grove OR. What we need is exact locations inside the towns! Can anyone help?
[Thanks to Michael]
All the scenes set in the town of Castle Rock were filmed in the town of Brownsville, Oregon, mostly on Main Street. The town still looks very much the same today as it does when it was filmed.
Gordie's house is 325 Fischer Street in Brownsville. [Thanks to Jennifer]
At the beginning of the movie when they are describing the small town of Castle Rock, you see a shot of Main Street, as well as a side view down Spaulding Avenue.
The place where the boys accidentally shoot the barrell is an alley behind Main Street. They run down the alley (roughly north), around the corner and start walking down Main Street (heading roughly south), where they run into Ace.
There were also some other scenes that were filmed in the town proper, but were never used, including one in an old one room cabin that still sits on the east end of Burney, the locals call the area "hippy hill". There are three cabins there, my grandfather lived in the one next to the one that they shot in. [Thanks to James Marks]
The orangey red-ish trussed railroad bridge that they walk over at the start of their journey was actually shot at a abandonded railroad near the town of Cottage Grove Oregon. The bridge runs over Mosby Creek and can be found at the trailhead alongside highway 89 north of Burney Falls state park and is on a bike path named "Row River Trail". I grew up on this trail and watched the workers turn the old rail road tracks into a bike trail. [Thanks to Elena Vaughn]
Later on, the bridge where the boys have to run to escape being run over by the train is the McCloud River Railroad's Lake Britton Bridge in Burney Falls Memorial State Park. After they are forced to jump at the end to avoid the locomotive, they dust themselves off beside Rat Creek on the shore of Lake Dorena, back a few miles north east of Cottage Grove, Oregon where the orangey red-ish truss bridge is. The McCloud River Railroad Company recently announced it's abandoning the railway and removing 77 miles of track east of McCloud, which also includes the Stand by Me bridge. Sadly, it will soon be no more. Catch it while you can.
The bridge that the boys walk over on the way back from their trip is the bridge over the Calapooia River on Main Street, Brownsville.
When the boys say goodbye at the end of their journey, they are at the intersection of Main and Park streets. When Vern leaves, he heads east down Park Street. When Teddy leaves, he heads west up Park Street, and seems to be heading for a white house (which is still there) at the end of Holloway Heights Drive, just off of Park Avenue.[Thanks to Jennifer]
Can you help? Do you know any of the Brownsville, Oregon (or any other) filming locations used for Stand By Me? [Please send them in]
Locations Links
Following is a recommended link:
Tour of the locations
Our Rating: ***