PLACES
LOCATIONS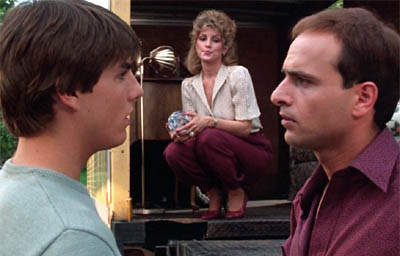 Locations Notes
Rewind the locations where they filmed the 1983 Teen Drama movie starring Tom Cruise, Rebecca De Mornay, Joe Pantoliano More Cast
Locations Manager(s):
Richard Feld
Risky Business Filming Locations:
Featured
Wanna see the real life filming location used for Joel's House - Exterior in the movie?

These scenes were actually shot at A private residence, located in Highland Park, Illinois. Google Map
Joel's house is located at 1258 Linden Street, Highland Park, IL. It looks slightly different because an addition was built above the garage and they have also added dormer windows. For some reason, the google maps page for this location has added incorrect pictures of Cameron's house from Ferris Bueller's Day Off. [Thanks to Jeff Kremer]
Tom Cruise meets Rebecca De Mornay in the Palm Court of the Drake Hotel, 140 East Walton Place, Chicago, IL [Thanks to Ann Leysen]
The exterior high school shots were done at Niles East High School in Skokie, IL. You know the scene where Joel runs up the steps, late for school, and pulls on the middle door only to find it locked? That middle door was ALWAYS locked! The school building is gone now... It was torn down in the late-80s and the location is now Oakton Community College.
The interior scenes of Joel's house (and maybe interior high school shots) were filmed on a set constructed in the gym at the New Trier Township High School in Winnetka, IL. Only the main first floor of the house was the set. When you walked up the stairs to the second floor, there was a balcony you had to wait on until the scene was over. The shower scene at the beginning was not part of the set of the house. It was a tiny set or a built hallway that was used seperate from the house for filming. [Thanks to Gerard Kaszubowski]
You too can grab a hamburger and fries at Shelton's Grill in Highland Park.
The fact that you have about how people can stop in at Shelton's and have a hamburger and fries is not exactly true anymore. If you go there very early in the morning from 4:30 - 5:30 am you could, but if you try to go at any other time, it is not open. Mr. Shelton passed away a few years ago, but his wife and his son open it up maybe an hour a day sometimes. She is still around being a crossing guard for kids who go to Ravinia School. The house that Tom Cruise lives in is an actual residence too. [Thanks to Rachel Wolfson]
The lake that Joel dumps his fathers Porsche into is Blemont Harbor on Lake Michigan. Don't bother looking for the rickety pier -it was built especially for the scene and removed after filming.
After the Porsche is ruined, Joel waits at the Deerfield Train station in Deerfield, IL, which is next to Highland Park. [Thanks to Clay Steele]
The Movie theater seen were he is cruising in Porsche with Barry "boffed her" is the Highland Park theater on Central Ave --where the movie actually played when it came out! [Thanks to Darrill]
At the end, Joel and Lana dine on the 95th floor in the Hancock building in Chicago, IL.
The huge white "temple" Joel passes on his drive home from downtown is one of the rare houses of worship for the Bah'ai (spelling?) faith. As I understand there are only six of these in the world, and they form a six pointed star when lines are connected between them on a map. They must meet strict placement requirements: near a major body of water (Lake Michigan), a major city (Chicago), and near a major place of learning (Northwestern University). This Bah'ai house of worship is located on Sheridan Road which is the most prestigious avenue on Chicago's wealthy North Shore. [Thanks to Doug Morris] Sally Miller kindly wrote in to update that, as of 2015, there are in fact all 9 houses of worship complete, creating a nine pointed star. The nine pointed star is a universally recognized symbol for the Baha'i Faith, as 9 is the most holy number.
The car chase scene between Guido and Joel begins on Lake Shore Drive downtown Chicago and continues on Sheridan Rd through the north suburbs. Joel and Guido end up circling in Central Rd, in Highland Park, the same street where there was a car chase in "Weird Science." [Thanks to Alschra]
Lana's Apartment - 14 W Elm St, Chicago (still has same sidewalk marker) [Thanks to Tom]
O'Hare International Airport was also used. [Thanks to Alschra]
Deerfield is a village located in Lake County, Illinois. A portion of the village is located in Cook County, Illinois. As of the 2000 census, the village had a total population of 18,420. It is a weather suburb, and a major cornerstone of the North Shore of rich, predominantly white suburbs featured in teen movies of the 1980s. (In fact, the Deerfield train station is featured in the Tom Cruise film, Risky Business.) The area now known as Deerfield was settled in 1835 and named Leclair. By 1850, the name was changed to Deerfield as the area became a township, in reference to Deerfield, Massachusetts. [Thanks to Jeff Kremer]
Niles East High School was the location for the high school in both "Risky Business" and "Sixteen Candles." [Thanks to Robert]
Can you help? Please

Update This
Locations Links
If you know of a good link for Risky Business locations, please let us know.
Next Section: LX Preview
LX Preview
LX is our radical new locations feature that we've been beavering away on.. For years!

Each location will have it's own page with then/now pictures, maps, StreetView, discovery story and the most detailed explanations on how the location was used. Most importantly, the locations will have a status that shows whether they are verified correct and by whom. We are working with the actual locations managers or other crew where possible. The whole thing will be very interactive and you will, of course, be able to update everything.

We are pleased to be able to bring you a sneak peek at what LX locations will be available for Risky Business upon release:

Dunking The 928
Lana's Apartment [interior]
Final Scene


Preview Icon Key:

Verified Correct
Probably Correct
Proposed
Probably Wrong
Wanted

Please Note: The status of some entries in this preview may be wrong because they are in-progress or need updating before release.
Jump To: Bungles & Goofs
Or use the menu to select another option
1983 Warner Bros.
1999-2018 fast-rewind.com
V4.0b Powered by Rewind C21 CMS