PLACES
LOCATIONS

Day Of The Dead Locations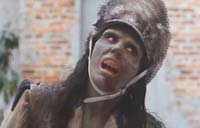 Locations Notes
Rewind the locations where they filmed the 1985 Horror / Occult movie starring Lori Cardille, Terry Alexander, Joe Pilato More Cast
Locations Manager(s):
Jim Brewelhide
Day Of The Dead Filming Locations:
The film was mostly shot at the Wampum Industrial Storage Facility in Beaver Falls, Pennsylvania. Like a hollowed out mountain with a labyrinth of tunnels, the facility was previously a cavernous salt-mine that is now used for all kinds of government and civilian storage. The facility, near Pittsburgh, PA. doubled for the interiors of the underground missile/storage facility.
Exterior scenes of the base were shot at a helipad on Sanibel Island -just a short distance from the beach- and the elevator was shot at the Manor Nike Missile Site, Nike Road, Irving, PA southeast of Pittsburgh, PA.
Bowman's Beach on Sanibel Island was used for the beach setting.
Ft. Myers Florida-downtown. I was about 14 years old - although I never saw the actual filming (perhaps because it was at night), I remember the overturned cars and the "redecorating" of my hometown for a "Big Movie." [Thanks to James Clouse]
Can you help? Please

Update This
Locations Links
If you know of a good link for Day Of The Dead locations, please let us know.
Next Section: LX Preview
LX Preview
LX is our radical new locations feature that we've been beavering away on.. For years!

Each location will have it's own page with then/now pictures, maps, StreetView, discovery story and the most detailed explanations on how the location was used. Most importantly, the locations will have a status that shows whether they are verified correct and by whom. We are working with the actual locations managers or other crew where possible. The whole thing will be very interactive and you will, of course, be able to update everything.

We are pleased to be able to bring you a sneak peek at what LX locations will be available for Day Of The Dead upon release:

The Underground Base
The Beach
Calling With The Bullhorn
Landing In The City
The Theater / Hordes
The Bunker Exterior
Alligator
Town Hall
The Town (Matte Shot)
Bunker Elevator
Flying Back To Base


Preview Icon Key:

Verified Correct
Probably Correct
Proposed
Probably Wrong
Wanted

Please Note: The status of some entries in this preview may be wrong because they are in-progress or need updating before release.
Jump To: Bungles & Goofs
Or use the menu to select another option
1985 Laurel
1999-2018 fast-rewind.com
V4.0b Powered by Rewind C21 CMS