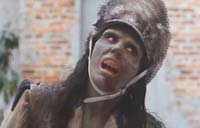 1985
Locations Manager(s):
Jim Brewelhide
On Location
The film was mostly shot at the Wampum Industrial Storage Facility in Beaver Falls, Pennsylvania. Like a hollowed out mountain with a labyrinth of tunnels, the facility was previously a cavernous salt-mine that is now used for all kinds of government and civilian storage. The facility, near Pittsburgh, PA. doubled for the interiors of the underground missile/storage facility.
Exterior scenes of the base were shot at a helipad on Sanibel Island -just a short distance from the beach- and the elevator was shot at the Manor Nike Missile Site, Nike Road, Irving, PA southeast of Pittsburgh, PA.
Bowman's Beach on Sanibel Island was used for the beach setting.
Ft. Myers Florida-downtown. I was about 14 years old - although I never saw the actual filming (perhaps because it was at night), I remember the overturned cars and the "redecorating" of my hometown for a "Big Movie." [Thanks to James Clouse]
Can you help? Do you know any of the Pittsburgh, Pennsylvania filming locations used for Day Of The Dead? [Please send them in]
Locations Links
If you know of a good link for Day Of The Dead locations, please let us know.