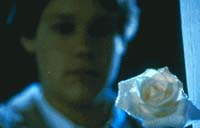 1986
Locations Manager(s):
Matthew O'Connor
On Location
Lord Bing High School was the school used in the movie. It is located in Vancouver, BC. This school was also used in the opening credits of the TV series, '21 Jump Street'. [Thanks to Kerry McNeil]
The carnival scene was filmed in school yard behind Lord Byng H.S. The 30-second scene took two weeks to film.
The field trip scene (where Milly falls) was filmed in Queen Elizabeth Park (Cambie St. and W.33rd Ave), also in Vancouver. [Thanks to Amy]
Other locations may be found in New Westminster, BC -- can anyone help?
Can you help? Do you know any of the BC, Canada filming locations used for The Boy Who Could Fly? [Please send them in]
Locations Links
If you know of a good link for The Boy Who Could Fly locations, please let us know.