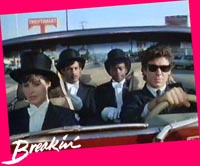 If you're a fan of the cult classic Breakdance movies, you've come to the right place! We're the one and only site dedicated to this classic and we've got a great selection of pictures from both Breakin' movies as well as the best inside info on the making of Breakin' & its cast & crew on the internet.


NEW! Breakin' & Boogaloo Merchandise *Update* -See the Stuff page

We're proudly a part of the 80's Movies Rewind.


We welcome feedback. Please do take the time to let us know what you think of this site. Are there any errors?



Visit the award winning Karate Kid, Last Dragon and Secret of My Success movie Websites. Setting the standard for 80's movie websites:




Something to contribute? We're listening -Send it in !