Meet The Cast Of Breakin' -Updated 13th Oct 2000

---
Exclusively learn about the wonderful cast of the classic movie...
It's hard to pin down the elements that go together to make 'movie magic'. If there was an easy answer, every film would have it. The cast and their special chemistry has surely got to be the most major part of it. A great cast who were having a good time making a movie can make a watchable movie out of even the worst script and story. In the case of Breakin' the cast and the fun that they were having almost certainly were responsible for lifting the finished production way above the expectations of the concept and the budget...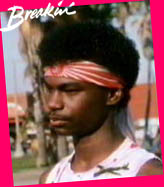 Michael "Shrimp" Chambers is the appropriately named Turbo. During the movie, Michael shows again and again that he has the skillz to perform an amazing number of different moves. Michael was just 16 years old at the time of the production but was the very definition of speed and precision as he performed his breaks, pops, locks and spins.



"Acting is really fun, but it's also hard work. I didn't understand just how hard it was going to be"



Affectionately nicknamed "Shrimp" by his sister, Michael found his expectations about both film and dance changed through his experiences as one of the stars of Breakin'. "Acting is really fun," he says enthusiastically, "but it's also hard work. I didn't understand just how hard it was going to be. Getting up at six in the morning is tough enough; then the director is always telling you to do a scene over and over. You have to try and remember what you did the last time so you can do it right the next time around. It takes a lot of energy and concentration. I'm lucky to have what it takes."

And he certainly did have what it took, playing his character brilliantly even though he presumably had had little acting training.

At the time he said that although he was devoted to the street dancing he did best, he no longer wanted to be limited to one dance form...



"I always figured ballet and jazz were hard. But now that I know the basics, they're real fun. Because I am a dancer, I can get the moves down once I hear the music and get a feeling for it. When that happens you feel good, and that's how I like to feel when I dance."



Shrimp was a founding member of the "Shabba-Doo Crew" dance troupe, which was founded by Adolfo "Shabba-Doo" Quinones, who plays Ozone in the move. Michael said of him in 1984 "I look up to him because he knows what he's talking about. I learn from him and he learns from me. He talks to me so that 1 don't run into the brick walls he has run into. Instead, he wants me to go around them," he says. While street dancing is making the cross-over to established schools of dance, such as jazz, Shrimp envisions the reverse also becoming true. "A lot of street dancers won't learn jazz. But if they see me doing jazz, they'll say, 'If Shrimp does it, then it's okay,' and they won't feel out of place." As with anyone who gains celebrity status, Shrimp found himself receiving considerable recognition, particularly from the opposite sex.



"I have to fight the girls off. I can't walk into the shopping malls without them coming after me!"



There also were always new contenders challenging Shrimp and his break dancing cronies to 'do their moves'. Said Michael at the time "We call them fleas, 'cause they're always diving and jumping in front of us wherever we walk, daring us to show off our stuff."

Just prior to Breakin', Shrimp appeared on a number of television commercials, a documentary for ON-TV entitled Breaking and Entering, and the excellent Lionel Richie music video, All Night Long. In addition, Shrimp toured with Richie and was on The American Music Awards.

"I hope I can someday see street dancing as a classic dance," Shrimp concludes. "I don't want it to die out like a fad. But for myself, it's always been my goal to be a professional dancer, somebody that could make it. First it was my videos and commercials, and now it's a feature film. So I'm gradually growing, and at different levels."

I wonder what he's been up to since? If anyone knows, please write.


---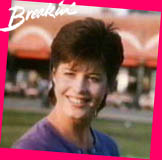 Revised and Updated! Lucinda Dickey starred in only her second feature as Kelly, also affectionately called "Special K," a traditional Jazz dancer who is determined not to let the dream of professional dancing slip away from her.

Played by Lucinda with great charm and honesty, her character is really the focal one for the movie. Certainly the movie traces the story from her point of view.

Ultimately, having become disillusioned with the conventional route to fame, she teams up with "Ozone" and "Turbo" -the two highly skilled street dancers, to take on the established dance world...



"Because of my training in gymnastics, I have a lot of strength in my upper body that most dancers don't have since you don't normally dance on your arms"



Lucinda, who was born and bred in the city of Hutchinson, is the daughter of Judy Mason, who runs Judy's School of Dance and had trained as a dancer since the age of four, was also highly skilled in gymnastics -- a talent that came in very handy for the incredibly difficult maneuvers which are required in street dancing. The choreographers made good use of this ability and her gymnastic displays serve as an excellent foil to the street dancing of Ozone and Turbo.

Lucinda was Miss Hutchinson in 1978, Miss Manhattan 1979, and was twice was third runner-up for Miss Kansas.

Never one to let a challenge pass her by, Lucinda threw herself into the task of learning how to break, pop, lock and wave - all of which were entirely foreign to her prior to the making of Breakin'. "I had reservations about her at first," states choreographer Jaime Rogers. "We were talking about doubling her, but she came in like a bat out of hell to get it together." In order to acquire the skills for street dancing, Lucinda had to learn new moves while unlearning others.



"Street dancing is a different type of coordination from [other conventional dance types] -Its movements look as though they're throwaways, but it's more controlled than most people think. When you do poppin', the non-dancer doesn't realize how much control and isolation it takes until you start breaking it down and learning it."


Lucinda arrived in Los Angeles in 1980 when she followed her instincts to move west. She soon won a scholarship to study at the Dupree Dance Academy. "I stayed on scholarship for a year, and danced on several shows such as 'The Mike Douglas Show' and 'PM Magazine'. But it was a week after I left the Academy that I auditioned for 'Grease 2' she relates.

Having won a featured role in "Grease 2," Lucinda went on to being a regular dancer on "Solid Gold" for a brief period. She danced on several television commercials and the Emmy Awards show before landing her first featured role in Cannon Films' "Ninja Ill: The Domination." For that performance Lucinda also called upon her gymnastic skills as she kicked and leaped her way as a Ninja assassin. When that picture finished, producer Menahem Golan thought so highly of Lucinda's abilities that he immediately cast her in Breakin'.


"It has been a lot of fun working with Shabba-Doo and Shrimp, -These guys are in a different class entirely. They're so incredibly talented -- this whole film has been a great experience."



Unafraid of success, Lucinda expresses a gutsy kind of common sense that has taken her to where she is now and will continue to bring her where she wants to go. "I love working, I absolutely love it," she exclaims. "Being successful is the process of achieving. If it's meant to happen, it will, as long as I keep on working. Whenever you feel that you have arrived, that's when it's time to move on again."

As for the stark contrast between her two starring roles at that time as a ninja warrior and a street dancer, Lucinda stated, "I like street dancing better than killing people!"

The city of Hutchinson celebrated her successes with "Lucinda Dickey Day" in 1984.

Sadly, after Breakdance 2, she was rarely seen on the TV or big screen. In 1987 she played 'Cory Foster' in the teen schlock movie Cheerleader Camp (AKA Bloody Pompoms) She last appeared in a minor role in the TV show Perry Mason (The Case of the Defiant Daughter -1990) where she was listed as having appeared as simply 'an employee'.

Lucinda Dickey has for 13 years been married to Craig Piligian, who is the co-executive producer of the TV show "Survivor." Before "Survivor," Piligian was supervising producer of "Real Stories of the Highway Patrol," as well as managing editor of a local news program in Las Vegas. He also worked on ABC's "Vital Signs," hosted by actor Robert Urich.

Lucinda met Piligian in the 1980s while both were starting out in their respective careers. She and her husband have two children and live in Thousand Oaks, Calif.

---
"Every decade has it's dancer. It was Fred Astaire in the 30's, Gene Kelly in the 40's, Donald O'Conner in the 50's, Chubby Checker in the 60's and John Travolta in the 70's and the hoofer of the 80's and 90's is Adolfo "Shabba-Doo" Quiñones ."



Adolfo "Shabba-Doo" Quiñones stars as legendary dance guru "Ozone". Apparently, long before the phrase "break dancing" was common, Shabba-Doo was pioneering many of the moves that ultimately went on to be incorporated in what became known as "street dancing".

"I've been doing this for over twelve years," Shabba-Doo proudly stated at the time of the movie's release.

"I'm not some guy jumped on the bandwagon because of 'Flashdance.' I really believe in street dancing, and 1 want to promote it. This film is giving me that opportunity"

As Ozone in Breakin', Shabba-Doo out-dances a number of rivals, and gets to upstage the snooty choreographer.

Interestingly, Ozone's experiences with an indifferent art world appear to closely chronicle Shabba-Doo's experiences in the early seventies as a member of Los Angeles' legendary dance troupe, The Lockers. "We were definitely trailblazers. At that time we were wearing knickers and striped socks, dancing, jumping and doing splits. We were laughed at and called clowns. Now, they're looking at us seriously", he explained at the time of the movie's release
"I just kept on working and working and believing in myself. Realize is that things aren't easy. The one thing you have to If you want something, you have to work for it. I'm proof positive that if you hang in there long enough, it will come around for you."

Shabba-Doo was the youngest member of the dance team that included hit singer Toni Basil. Now, as the dance form they pioneered works its way into popular culture, Shabba-Doo was the only member of the group still dancing at the time of the movie's release. "The other members of the group gave up the fort and I'm the only Indian left," he relates.

Those beginning years were difficult for Shabba-Doo. Creating a unique, new style and trying to convince a skeptical world that it was a legitimate dance form. "I cried a lot, and "I'm not afraid to admit it. I really believed in what I was doing and everytime I was rejected 1 felt bad. But through it all I've gained strength and renewed vigor for what I believe." "I think Ozone is like that, too," he says, referring to his film role. "He's a product of his environment and he's learned to put up those walls of defense. He feels bad deep in his heart and when he is in a private place, he lets those emotions out. "In that sense, this picture's not about break dancing. It's about an ideal, about showing that a street guy with the right determination and the right amount of work can make it. He can work alongside legitimate dancers and have his place on stage or anywhere else. That's Ozone," he says.

Despite the setbacks, Shabba-Doo quickly gained individual notoriety as the "Bob Fosse of the streets" and the "Baryshnikov of the pavement", taking street dancing to national television through Soul Train, The Tonight Show and MTV.

Just prior to working on Breakin, he had also choreagraphed and performed as a featured dancer in Lionel Richie's pop video "All Night Long".

Along with talent and spirit, Shabba-Doo is rightly assertive and proud of his work. He has appeared on stage with such top-liners as Tina Turner, Bette Midler, Dean Martin, Don Rickles and Dinah Shore. Shabba-Doo has appeared on television shows like "Saturday Night Live", "The Toni Basil Special", "Real People", "Midnight Special", "What's Happening", "The Mike Douglas Show" and "The Merv Griffin Show". He had also performed on stage in "The Detective Story", "Bette Midler's Divine Madness" and "Goosebumps".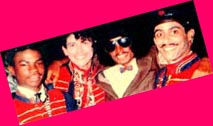 Shabba-Doo has choreographed and danced with many of the most famous entertainers of our time including Madonna, Michael Jackson, Lionel Richie, Bette Midler, Tina Turner and even "ole blue eyes" himself, Frank Sinatra.

Three of his high profile dance movies: Breakin'(MGM); Breakin II Electric Boogaloo (Tri-Star) and Lambada...Set the Night on Fire (Warner) grossed more than $150 million collectively. The box-office sucess of Shabba-Doo's youth oriented dance films prompted Dance Magazine to name him "Hip Hop's first matinee idol"!.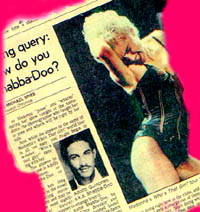 Shabba-Doo choreagraphed and was a featured dancer with Madonna on her world tour and can clearly be seen showing his dance and theater skillz in her concert "Ciao Italy" which is still available to buy.

NEW: When an independent film production company, distributed by New Line Cinema, presented Shabba-Doo with the challenge of directing his first feature film, "Rave... Dancing to a Different Beat!", he met the challenge, not only delivering a tour-de-force performance, but also serving as the production's Director, Co-Writer, Choreographer and sound track producer! It was an intense experience that left him with a keen awareness of the filmmaking process.

Realising that knowledge is the key to longevity in film, Shabba-Doo accepted an invitation to join the prestigious American Film Institute, where he honed his skills as a Director and Writer. His subsequent graduation placed him in a circle of fellow aluni made up of some of the industries most repsected and influential filmmakers.

Shabba-Doo currently heads up On Q Entertainment, his independent film production company that has several projects currently in development... One of which is very, very exciting for Breakin' fans... can you guess? Answers on a postcard.

He also has a another exciting new project in development which is best described in his own words:
"Hi Everyone,

I have some very exciting news. I'm proud to announce the January 15, 2001, grand opening of my very own dance and fitness facility and Shabba-Doo clothing line in Aoyama Tokyo (the 'Beverly Hills of Tokyo' by the way), aptly named: "Shabba-Doo Dance & Fitness Studios" which will feature a retail outlet, full service gym, cafe, private sun tanning rooms, sauna, nail salon, etc. I leave for Japan in about 2-3 weeks to begin work on the design of my logos, construction, etc.

-Shabba-Doo "
In due course Shabba-Doo will have his own news page on this site where he will keep us fully posted on his projects.

---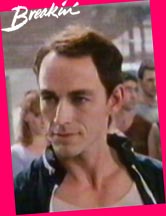 Starring as the nefarious "Franco" was Ben Lokey. Amazingly, and somewhat sadly, this was the first of only two motion picture roles (and the only speaking part) that it seems he ever played.

Lokey had, at the time the movie was made, already been a professional dancer for years. He had appeared in many Broadway musicals including "A Chorus Line", "Kiss Me Kate" and "Girl Crazy".

Ben had also appeared in a number of musical TV productions and had choreographed and directed a number of stage plays and musicals. His performance as "Franco" was totally believable and its a shame that he didn't get to play any other major roles.

In the scene where he is passionately teaching his class, he shows considerable charisma, and when receiving praise from the students at the end of a practice, is allowed a rare, charismatic smile that seems to show that in reality, Ben was an interesting and charismatic character. It is also known that he had considerable skills in many athletic pursuits, including the martial arts. Ben, if you ever read this, drop us a line and tell us what you've been up to since this movie...

---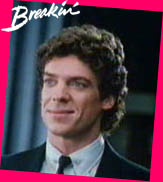 In the interestingly cast and conceived role of "James" -Kelly's agent, we find hard working everyman actor Christopher McDonald. Having appeared in over 65 feature films at the time of writing, James has seemingly been everywhere and done everything including episodic TV and voice roles for animated productions.

Chris's character of "James" is interesting because he at first appears to be slimy and untrustworthy. Whether this was done deliberately or not is not clear, but as time goes by in the movie, either Chris seems to find his feet, or the audience gets the measure of him.

I suspect that the director was not sure whether to play the slimy version of James in the picture or not. "James" of course eventually ends up being the cool creator of the legendary "Allegro Viviachi Dance Trio".

James's next upcoming picture appears to be "Skulls" in the Year 2000.

---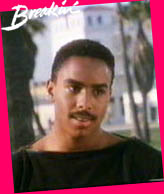 Appearing as "Adam", Kelly's camp friend from dance class who introduces her to Ozone & Turbo we find Phineas Newborn III. Another actor from this movie, who sadly only appeared in a couple of movies, Phineas is also listed as having appeared in "Girls Just Wanna Have Fun" in 1985.

Phineas was clearly a lively and talented dancer at that time. Having started dancing professionally at the age of 16, at the time of the production of the movie he was 20 and had been in an impressive number of stage productions including "A Chorus Line" and "Joseph And His Technicolour Dreamcoat". If anyone has any news of him since, as with all the other actors, will you please drop us an email...



---

The following trivia is quite well known and many of you wrote in to tell us, but it was Jay Pasignajen who wrote the best mail in our humble opinion, so we quote (word for word) Jay's mail:-

"Breakin did actually have another well known actor in the mix that did not have a major role, more of an extra. An what makes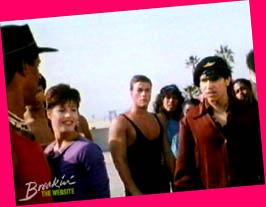 this even more interesting is that this was this actor's first movie screen appearance. The actor...? Jean-Claude Van Damme!

Wait! before you say I'm crazy, think back to the scene where Adam first takes Kelly to the Beach to relax where she later meets Ozone and Turbo. Kelly then begins dancing. Pay attention to the crowd. Before Kelly "steals the spotlight" and goes into a series of flips and spins, there is a muscle-bound guy wearing a black spandex "tank bodysuit" waiving his arms in the air like a gorilla, cheering and clapping. Look closely, study the acting technique! It's Van-Damme. Check out the "hard look" he gives when Ozone storms off.

Vintage Van-Damme acting ! "Freakshow...baby..baby... on the dance floor...it's a freakshow!" Far-fetched? Not really. It was around this time Van-Damme was trying to break into movies. "No Retreat, No Surrender", his first starring role later came out in 1985. A CANNON related production "Bloodsport" later came out in 1998. And of course he had studied ballet. Coincidence? I don't think so. So the next time you and a group of nostalgic Breakin' friends get together and are watching the film, point this moment out. It's sure to bring alot of "OH MY GOD!"s and "NO WAY"s."

--Our thanks again to Jay and all of you who wrote in to tell us!

---
Movie & All Images ©1984 Cannon Pictures. Please see the
legal
section for details.
Link eXchange Banner
©1999, 2000 Fast Rewind WebSites. All Right Reserved.