Meet The Crew Of Breakin'
-Updated 2nd Nov 1999
---
This page is an early version. It will be updated soon though, so check back with us regularly...
Joe Silberg - Director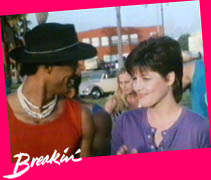 Breakin' was his first American film. Having been a writer and director of musical plays in Israel, Silberg began his career in theatre in 1950 when he studied at London's Old Vic. Over the course of his theatrical career he has directed over 60 stage productions.

In 1960 he went to work as an assistant director on Otto Preminger's epic, "Exodus." Eventually he began to direct his own films which included three pictures for Golan-Globus productions: "My Mother the General, "Marriage - Tel-Aviv Style" and "The Secret of Yolanda."

Upon viewing Silberg's latest stage presentation, "Hallelujah Hollywood," executive producer Menahem Golan brought "Breakin'" to Silberg's attention.



"I immediately became very excited about the film -And I liked the storyline very much. I have a strong feeling for the underdog. Throughout my career I have explored that subject matter. I know the frustrations, desires and out-cries of these kind of people. And I took this as a basis for when I met with Shabba-Doo, Shrimp, and the others. I wanted to emphasize their personal experiences from what they told me about street dancing"



Allen DeBevoise and David Zito -Producers

Allen DeBevoise and David Zito teamed up to bring the many talented artists together on Breakin' . Both 28 years old, DeBevoise was formerly the Creative Director at Robert Abel & Associates, a television commercial production house. DeBevoise called upon the talents of David Zito, a screenwriter, to initiate the development of a narrative film that would concentrate on the world of the street dancer. Their extensive research into the "hip-hop" subculture has un- covered many of the best dancers in Los Angeles.

Menahem Golan & Yoram Globus -Chairman & President of Cannon Films Inc in 1983/84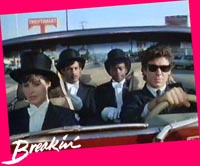 During the mid 80's Globus and Golan shared the same indefatigable energy that created Hollywood over seventy years ago. Golan, Chairman of the Board of The Cannon Group, Inc., and Yoram Globus, President, put more motion pictures into production for 1983-84 than any other major studio during the same period.

Golan and Globus have been partners since 1960 when they formed Noah Films, Ltd. Together they made close to forty features. Having virtually created the Israeli film industry, their success was unparalleled.

As noted by Variety, of the twenty top-grossing films released in Israel between 1960 and 1980, fourteen were Golan-Globus productions. The two producers have the distinction of being the only producers to have been nominated four times by the Academy of motion Pictures Arts and Sciences for "Best Foreign Film". -The nominations were for "Sallah," "I Love You Rosa," "The House on Chelouche Street" and "Operation Thunderbolt," which Golan directed.

Having decided to produce and distribute films for a worldwide audience, Golan and Globus bought controlling shares in The Cannon Group in May of 1979. They set up base in Hollywood and turned the ailing company around from a producer of exploitation fare to one of quality motion pictures. Among the films produced under the aegis of Golan-Globus were "That Championship Season," "Sahara," "Marials Lovers," "Love Streams," "The Ultimate Solution of Grace Quigley," "The Naked Face," 'lover the Brooklyn Bridge," "Enter the Ninja," "The Ambassador," "The Wicked Lady," "Hercules," "Revenge of the Ninja" and "Making The Grade."

Hanania Baer -Director of Photography

Hanania Baer's talents were used to capture the excitement and energy of street dancing coupled with the gritty feel of the 1983 Los Angeles youth subculture...



"What we had to capture here was the uniqueness of these people and how they are so full of life. These dancers were not placed on stage and given routines to follow. The dancing here was part of a living environment. It's something that's happening now, and that's why it's so important."



An award-winning cinematographer, Baer had at the time been nominated for two Emmy's for his work on ABC television's "Afternoon School Special" , as well as several awards for short subject films in Israel.

Baer has worked on over twenty features. His most recent effort prior to Breakin' was Cannon Film's martial arts opus "Ninja III: The Domination," (starring Lucinda Dickey) and the television feature "Killer in the Family" starring Robert Mitchum.

Jaime Rogers - Choreographer

Jaime Rogers has a phenomenal list of credits to his name which include television series and specials, commercials, nightclub acts and feature films. He has worked with such talents as Sammy Davis, Ethel Merman, Wayne Newton, The Jackson's and Sha-Na-Na. The Rogers choreographed the classic "Dr. Pepper" advertising campaign for five years. He has directed and staged the musical numbers for both the Grammy and Emmy Awards for a number of years. In 1983 Rogers was a bona fide break dancer as well.

---
Movie & All Images ©1984 Cannon Pictures. Please see the
legal
section for details.
Link eXchange Banner
©1999 Fast Rewind WebSites. All Right Reserved.