REWIND
REVIEW

"
An engaging comedy about a bachelor and three near Mrs.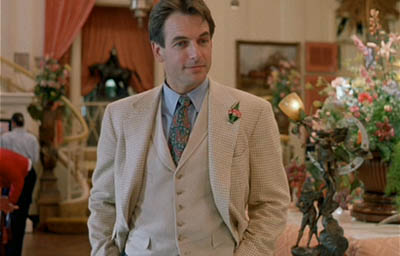 Starring
Mark Harmon, Madeline Stowe, Lesley Anne Warren, Maria Holvoe
Cameos
Look for David Brenner, Joan Severance, Danny Lee Clark making a cameo appearance!
Review
This is another of those obscure independently produced movies that I discovered on late night satellite back in the early '90s. In those days, long before disk PVR's, thousands of channels and on-demand, they had to fill their schedules through the night when comparatively few were watching.

What this meant in practice was a lot of movies that had failed at the box office or never got released at all. Many for good reason. But there were real gems to be found that just hadn't found their audience yet in theaters or video. To be fair, probably because they are an acquired taste. Many require a healthy ability to suspend disbelief almost totally and forgive a lot. But their certain charm shone through. Ok, these whimsical urban fairytales are not for everyone --and certainly not recommended for cynics; lets be clear. But for me, something about the discovery process made it so much more rewarding when you found a diamond in the rough.

I used to set the VCR to record ones that looked interesting. In this way, I found "Don't Tell Her It's Me", "Windy City" (1984), "The Counterfeit Contessa" (1994) and loads more. All loveable in their own ways.

Worth Winning centres around a Philadelphia TV weatherman, Taylor Worth played by Mark Harmon, later of NCIS fame. Taylor is just rocking in a late 80s Yuppie kind of way. He has the looks, the charm, the smarts, a glamorous career, six figure income, fabulous house, car and all the measured cockiness to go with it.

We learn about Taylor and how he thinks through the unusual practice of 'breaking the fourth wall', like Ferris does on his day off. He speaks to us, the audience directly and without guile right from the start. I don't know about you, dear reader, but I'm a sucker for that. We see Taylor as he is. As we meet him, he is far from the stereotypical schmuck. He just feels that he hasn't found the right one yet. Truth is, he doesn't really give them a fair chance.



He has a small group of gambling obsessed cliché married male friends. They are deeply envious of him and his lifestyle; except Ned, his best friend. Ned is a psychiatrist who is worried about him. They were friends from childhood and Ned now feels that Taylor's ease at playing the field is ruining him. He gets what he wants too easily and never lets them get through his smooth exterior. Conversely, Taylor just thinks Ned has lost his edge since he got old.

Ned concocts a plan that the other friends buy into as a huge wager. "We have a proposition for you. You have 3 months to get engaged to 3 women. And I pick the women." The stakes are high. Taylor's desirable mountain vacation cabin for Ned's (wife's) Picasso original. Without really considering the consequences and sure of his cynical people skills, Taylor is manipulated into accepting this challenge. Besides, one of them may just turn out to be the One...

Although in his own mind, Ned feels that he has Taylor's best interests at heart, he is playing to win and chooses candidates to make it as difficult as possible. One third of the bet is a beautiful, sensitive but untouchable cheerleader jealously guarded by the players; Another is a friend of his wife; a quirky, straight talking concert pianist who just tells it like it is and is highly sceptical of men & Yuppies in particular. Finally, Ned shows he is not above cheating by choosing a wealthy socialite for the third -- who is already married!

What follows is part part urban moral fairytale and quirky romantic comedy. As for what happens, you'll just have to watch it and see...
Author:
Nick
Update This Review
Verdict
This movie was never meant to be taken too seriously. It is predictable, corny and apparently two dimensional...

It tanked at the box office perhaps because it only skirts the fine line between charm and disaster if you're prepared to roll with it and see the fairytale for what it is. And that was perhaps too much of an ask for most. Taylor learns to be REAL and that's the bottom line, like any self respecting urban parable.

It sets out it's stall quite clearly in the traditional late 80s stylized animated opening credits sequence showing Taylor flipping through women by TV remote control only to find the right 'recipe' causing surrender of the remote control. Compared with giants of the genre like "Pretty Woman" (1990) that followed only a year later it lacks class, but I would hazard a guess that despite this, it has found it's audience over the years & kept it. If the DVD sells for over 200 Dollars on Amazon, how can I be wrong?

Maybe it's that breaking of the fourth wall? Or that it really has things to say if you're listening. Or just the journey and a great song to underscore. Or 'Mouse Olympics'..? ;-) Who knows. Perhaps I have no excuse. I just love it anyway. :-)
Harmless fun with subtle depth

Hard core cynics will just hate this on sight
Rewind Rating
The Movie Data
Jump To: Music & Soundtrack Vibes
Or use the menu to navigate
1989 20th Century Fox
1999-2020 fast-rewind.com
V4_27 Powered by Rewind C21 CMS