REWIND
REVIEW

"
A woman pretending to be a man pretending to be a woman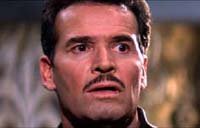 Starring
Julie Andrews, James Garner, Robert Preston, Lesley Ann Warren
"Victor/Victoria" contains some of the last singing on film done by either Robert Preston (who died of lung cancer at age 69 in 1987) or Julie Andrews (lost her lovely singing voice due to throat surgery in 1997).
More Trivia from Victor/Victoria
Review
Victor/Victoria is one of the most funny, sophisticated and utterly charming romantic comedies to come out of the 80's.

It stands today as one of the truly original gender bending farces ever made.

Written and directed by Blake Edwards (of the Pink Panther series fame), it tells the story of down and out singer Victoria (Julie Andrews) in depression era Paris. She is befriended by the equally unlucky Toddy (Robert Preston), a gay nightclub entertainer.

Together, they "create" a new persona for Victoria: Count Victor Grezhinski, a gay female impersonator.

Managing to pass herself off as a man, Victoria becomes the "toast of Paris" and attracts the attention of macho Chicago gangster King Marchand (James Garner), who finds himself attracted to Victor. But are his instincts that are telling him that Victor's really a woman correct?

What ensues is a hilarious set of clever, pseudo- slapstick scenes, the hallmark of Edwards directing style, building up to the impending moment when Count Grezhinski will be proved a phony - or is he?

The story is engaging, the music enchanting, but the best thing about this movie is the quick and clever dialogue and how the cast delivers it.

Julie Andrews stretches herself in this film and handles all aspects of her 'dual' role well, playing dashing Victor and thoughtful Victoria interchangeably and with ease.

James Garner, always a treat in a comedy, puts in a great performance as well. But the real standouts in this picture are Robert Preston and Lesley Ann Warren.

Preston, probably best known for his starring role in "The Music Man" both on Broadway and on film, is purposely cast against type in this film. 80's fans may know him best as "Centauri" in the Classic "Last Starfighter". Possessing big, square shoulders, a large and rustic looking face and a deep, reasonate voice, he is difficult to picture as a cabaret "Queen". Precisely the affect that Edwards was after! He plays Toddy so well and is so believable as Victoria's mentor and buddy, that you forget that it's Robert Preston.

Lesley Ann Warren plays Norma Cassady, King Marchand's soon-to-be-dumped squeeze. Her performance is so inspired as this cheeky, jealous, over-the-top bottle-blonde, that you are left holding your sides from laughter.

In addition to the comedy and romance, the audience is treated to some really fine songs and music, written by the late Henry Mancini and lyricist Leslie Bricusse. The stage sets are colorful, detailed and honed to the 30's era. The dance numbers are nicely choreographed.

Inside the 'gaiety' of this irreverent, funny film is a lot of subtle commentary on gender roles, discrimination, and what constitutes sexual attraction.
Author:
Renee Kliewer
Update This Review
Verdict
Really a triumph for writer/director Blake Edwards. Anyone who enjoys the Pink Panther films will probably enjoy this film. It is one of the better romantic comedies of the 80's - just different than most because it comes at romance through a different lense than what is typical.

The acting performances are first rate and worth seeing. This picture came out only a year after 'Arthur', and shares some things in common with it. They're both romantic comedies that share wonderfully written screenplays, and each finds the core of it's comedy in something that should be serious (In 'Arthur', it's drinking; in V/V, it's homosexuality).

Although it is only rated PG, the subject matter is mature and some of the dialogue will go over a lot of children's heads (I hope so).
The screenplay, dialogue, casting, acting, music are all excellent. No one does comedy action sequences better than Blake Edwards.

The focus on the nightclub singing and dancing may be too long and drawn out for some, who are used to their comedies speeding along quicker than this.
Rewind Rating
The Movie Data
Jump To: Music & Soundtrack Vibes
Or use the menu to navigate
1982 MGM/UA
1999-2020 fast-rewind.com
V4_27 Powered by Rewind C21 CMS