REWIND
REVIEW

"
He didn't want to go to College, He wanted to do something bigger with his life!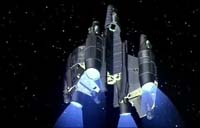 Starring
Lance Guest, Catherine Mary Stewart, Barbara Bosson, Norman Snow
Robert Preston, Dan Mason (III), Dan O'Herlihy, Chris Hebert, Kay E. Kuter, John O'Leary, George McDaniel, Charlene Nelson, John Maio, Robert Starr, Al Berry, Scott Dunlop, Vernon Washington, Peter Nelson, Peggy Pope, Meg Wyllie Update Cast
Thanks to
John Edward Kilduff
This movie was spoofed in the "South Park" episode "Best Friends Forever". The plot involved Kenny dying and going to Heaven, where his PSP skills are used in a battle between Heaven and Hell. This episode came out around the time of the Terri Schiavo case, so the main plot involves Cartman and Kyle battling over whether Kenny's body should be kept alive.
More Trivia from The Last Starfighter
Review
It is 1984 and the biggest video game to be released in a Trailer-Park near you is "Starfighter".

So join all your friends and try to beat the record, which is over 900,000 points, it just might get you somewhere. For if Alex Rogen, a teenage repair man at his motherís trailer park, can do it so can you! But if you donít think you are "Man" enough... sit back, relax, and watch how simple Alex makes it look!

The Story...

You see Starfighter isnít any ordinary video game, it is a trainer and a test. A man named Centauri invented it to find the "best of the best" potential starfighters here on Earth. The Star-League is in bitter need of new Starfighters in a war against the evil "Xur" and the "Ko-Dan Armada". And Cetauri is just looking for a way to cash in and collect his money.

So in comes Alex, who has nothing better to do but play video games and, after much practice, beats Starfighter and is soon collected by Centauri. In his place is a "Beta unit", a robot that can take on the characteristics of the person it was made for.

While he is away the Beta unit tries to keep Alexís life as normal as possible. With someone in his place Centauri throws Alex into the world of Star-Command, but Alex just wants to go home and Centauri is forced to take Alex back, but while Alex is coming home all the Starfighters are destroyed and their pilots killed by Xur...

...That is all but Alex. And Xur knows he is alive!!! So Alex has two choices, stay at home and be destroyed by a "Zan Doe Zan" assassin or join Star-Command and Hope for a fighting chance against Xur...
Author:
Marty
Update This Review
Verdict
This movie was way ahead of its time. The computer graphics alone, show the statement to be true. But on top of being an effects movie, The Last Starfighter delivers a really good plot and fantastic actors. This may be something Hollywood should look into, for most modern films will give up on plot and characters when the movie has a special effects budget. So enjoy this one for it may be one of a dying breed.

Now something from myself... This is a fantasy and I love it. The Last Starfighter can cheer me up anytime I feel down. I hope it does the same for you and your children. In my case, I hope to pass it on to my sister's children and I hope they will love movies as much as I do. Especially this one...
Well to give one, the outstanding computer graphics. but also great plot and characters.

Are there any, you tell me...
Rewind Rating
The Movie Data
Jump To: Music & Soundtrack Vibes
Or use the menu to navigate
1984 Lorimar / Universal
1999-2020 fast-rewind.com
V4_27 Powered by Rewind C21 CMS