REWIND
REVIEW

"
Al Capone ruled Chicago. No one could stop him until Eliot Ness swore he'd bring him down.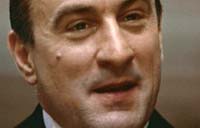 Starring
Kevin Costner, Charles Martin Smith, Sean Connery, Robert De Niro
Andy Garcia, Richard Bradford, Jack Kehoe, Brad Sullivan, Billy Drago, Patricia Clarkson, Vito D'Ambrosio, Steven Goldstein, Peter Aylward, Don Harvey, Robert Swan, John J. Walsh, Del Close, Colleen Bade Update Cast
In real life, Frank Nitti did not die in a gun fight with Ness. The Real Frank Nitti took over as the head of the Chicago Mob when Al Capone went to jail for tax evasion. He commited sucide several years later, on the eve of a scheduled grand jury appearance, by shooting himself in the head.
More Trivia from The Untouchables
Review
It's 1930. The City of Chicago is over-run by crime and corruption.

The city is ruled by mob kingpin Al "Scarface" Capone (Robert De Niro). He buys off the police and city government - and kills all who cross him.

Young federal agent Eliot Ness (Kevin Costner) is called in to stem the flow of illegal booze and the violence it creates. After his first disasterous raid, Ness almost gives up hope. Then he encounters the veteran beat cop James Malone (Sean Connery) on a bridge.

Eliot Ness is greeted with a barrage of staring eyes and whispers as he arrives at work next day. As he paces his office, a woman, mother of the slain Blackmeyer girl, places her confidence in Ness.

It is her words that make Ness seek out Malone at his home, 1634 Racine. Ness tries desperately to enlist Malone's help, but he decides that staying alive is more important than the fame of bringing down Capone.

Next day, the character of Oscar Wallace (Charles Martin Smith) is introduced. He's a 40-something accountant with not a lot to offer. Or so it seems.

Malone decides that he will help Ness. Together they go to the Police Academy to pick out an uncorrupted cop. They choose the rookie with faultless aim, George Stone (Andy Garcia). Malone decides the time is ripe to bust up a brewery and decides they need another man. Oscar Wallace walks right in at that moment. He is handed a shotgun and takes the challenge.

The brewery is in an unemployment office. When they reach the door, Malone tells Ness "If you walk through that door now, you're walking into a world of trouble and there's no going back, understand?" Ness takes the challenge and the quartet bust the biggest brewery most of them have ever seen.

After this, Al Capone is not a happy bunny. He gives a big dinner party and a lot of people are there. He gives a speech about baseball and the importance of being loyal to the team. He then breaks the skull of the brewery's overseer with a baseball bat.

Frankie Nitti is sent to Ness' home, to 'warn' him of the danger he and his family are now in. For a moment, Ness worries that his daughter has been kidnapped. She's just out of bed to finish her ironing. Ness sends his old lady and little girl away to safety. He learns of a huge shipment coming through from Canada.

After an overnight flight, on which Wallace is too busy finding out about the mob's finances to sleep, the Untouchables (so named because they refuse all bribes) arrive in Canada to bust this shipment with a troup of Mounties. After busting the shipment in an impressive shoot-out, Malone captures the bookkeeper George and frightens him into confessing by blowing the brains out of a dead gangster.

When Capone hears about this one, he is very, very peeved off at Ness' little 'beat-the-mob' game and declares that he would very much like to defecate on the ashes of Eliot and his family.

Eliot's old lady Catherine gave birth to a little baby boy while Ness was in Canada. She asks if they are making progress. "Progress? Mrs Ness, I think your husband just became the man who got Al Capone!"

The DA announces that Al Capone is going to court on income tax evasion. Ness and Malone walk by, just as the DA commends their efforts. Wallace is escorting the bookkeeper to their office. Unfortunately, Frank Nitti is right on their trail. In fact, he's in the same lift. A bullet in both their foreheads. As a final, sick touch, "TOUCHABLE" is written in Wallace's blood...

Is this the end of the Untouchables war on Al Capone?
Author:
Kath Baker
Update This Review
Verdict
The Untouchables is a classic. Amazing soundtrack, great quality of actors, violence and raw, beautiful American history. And Andy Garcia. I'm sorry, but I really like any Andy Garcia film.

The sets were amazing, but so was everything else. To say this was produced before computer animation was refined, this is a wonderful, all live-action film.
I liked this film because it has everything I like in a film.

I don't like this film because at times it can be a little tedious and some segments seem cut off from the main storyline.
Rewind Rating
The Movie Data
Jump To: Music & Soundtrack Vibes
Or use the menu to navigate
1987 Paramount Studios
1999-2020 fast-rewind.com
V4_27 Powered by Rewind C21 CMS