Valley


Dated Julie From 'Valley Girl' (allegedly!)
Member # 1322





22 Updates!

Member Rated:


posted





---
"Every girl needs a hero.. every girl needs a Romeo to capture her heart!"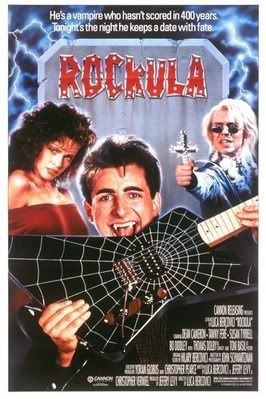 "Rockula" is a film that is totally 80's .. to clarify.. it was actually filmed in 1988, but unfortunately due to financial difficulties wasn't released until 1990. Well, to say it was released is almost not fair to the film, but I do have it on Laserdisc from a surprising bargain bin snag at a used records store. Bought the laserdisc before ever seeing it because of the price and the fact Dean Cameron was in it.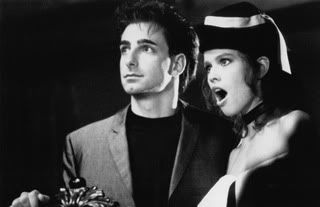 If you're a fan of Dean Cameron because of movies such as "Summer School", "Ski Patrol", or "Miracle Beach" .. then you should definitely give "Rockula" a chance.

This movie easily falls in Muffy's guilty pleasures thread category in my opinion. Wow.. it's kinda bad, but then again it is so much fun that you just might want to watch it again as soon as you finish! So that should put Muffy on board for at least a watch.

Oh and.. aTomiK there are girls in it.. uh .. Tawny Fere and Toni Basil for example that might just interest you.

Hey Ronnie.. this is probably another soundtrack you own without ever watching the movie.. plus, I know you'll enjoy the montage to the tune "By My Side"!

Cindy Mancini .. I heard from 'Quinton' that you appreciate the finer things in life.. like "Miracle Beach", so you have to at least take a bite at this one.

Wait.. Veronica Sawyer .. as a huge fan of Chainsaw in "Summer School" it is a must for you too.

I'm sure Crash is in on this.. or at least he can give us scoop on the original Italian version that was far superior.

Helen.. stick with Halloween III, this will not go well for you. ha!

Devo.. please keep reading, there is something cool that might just interest you.

Oneyed.. it ain't RAD or Thrashin', but I'm pretty sure I saw a skateboard.

Pyro.. please tell me that you sing a few of these "Rockula" tunes while you are shining your rollerskates for Saturday night.

Kash.. you've always been my wingman, but this might be where I crash & burn. Eject!

Paul.. I know this movie would have been so much better starring Pia Zadora, but please give it a chance since you enjoyed "Santa Claus Conquers the Martians" so much.

Kev.. looks like you have a new Halloween movie to add to your collection next year.

The Young Warrior.. might just have this one.. of course.. the montage was probably cut out in his country due to implied violence.

Seriously enough Rewind name dropping, does anyone else here enjoy "Rockula"?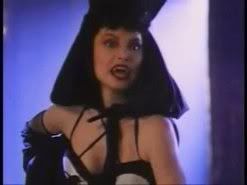 "What's your game? What's your deal? Now I know how a wild animal feels!"

So I mentioned Toni Basil among the cast .. but to see Bo Diddley just let loose in this movie is a blast. If you only know Thomas Dolby for his music, then you will crack up at his way over the top performance as Stanley.

Finally for Devo.. Mona's friend Robin was played by Nancye Ferguson who was married to the band Devo's Mark Mothersbaugh at the time. And Nancye performs a tune with a group called 'The Visiting Kids' which is rumored to be comprised of daughters from different Devo band members.

Anyone know if that was a real band that Ralph approached on the street while searching for Mona? Dig on that those shades and of course a Red Hot Chili Peppers t-shirt is always a nice score.

Let's face it .. the final performance is outlandish, but still entertaining. Club Hell was one wicked place in my opinion.

Still wondering why in the world you should watch? How about the fact that the fashion is 80's awesome!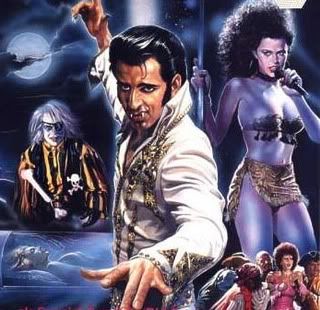 "Tell all your friends that the king is back!"

SOUNDTRACK:

01. (I Just Wanna) Rockula (Main Titles) – Dr. Daddio
02. Ralph(s) on the Keys – Hilary Bercovici
03. Stanley's Death Park – Thomas Dolby
04. Break These Chains – Tawny Fere
05. Hey, Mona – Dr. Daddio
06. Turn Me Loose – Tawny Fere
07. Rockula's Band – Hilary Bercovici
08. Rockula – Dean Cameron
09. Rapula (He's the DJ, I'm the Vampire) – Dean Cameron
10. By My Side – Dean Cameron & Tawny Fere
11. The Night – Toni Basil
12. Budapest By Blimp – Thomas Dolby
13. Phoebe's Dance -Hilary Bercovici
14. United State of Beat – Visiting Kids
15. The King Is Back (Hey, Rockula) – Dean Cameron

[ 17. December 2011, 14:08: Message edited by: Valley ]
---
Posts: 7845 | From: Smiling and glancing in awe in the back of a limo | Registered: Mar 2003 | Site Updates: 22 | IP: Logged |