aTomiK
.... has green eyes as well....
Member # 6575





7 Updates!

Member Rated:


posted




---


"An American group of exchange students come to Paris to study the language and culture for a year.
The film depicts the various interactions between the students and the instructors,
including the pretty female director of the institute where they are enrolled." (IMDb)

This was a decent coming of age film directed by Willard Huyck.
The cast is interesting: Miles Chapin, Blanche Baker, David Marshall Grant, Valerie Quennessen,
Marie-France Pisier, Jean Rochefort, Debra Winger and Mandy Patinkin.

I remember Quennessen from Summer Lovers and everyone knows that Baker was in Sixteen Candles.

Winger, Chapin, Quennessen and Grant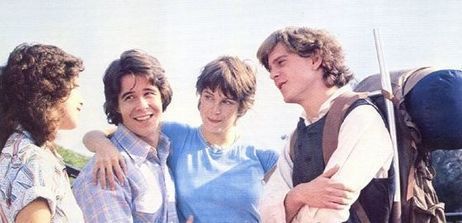 Some say that FP is a romantic comedy but it´s definitely more drama with few jokes thrown in. Especially Mandy Patinkin´s character Sayyid is one crazy fella.
You can´t see much skin in this one. Only Pisier undresses but she sure looks fine
I need to watch her ´77 film The Other Side of Midnight asap.

While not nearly a classic, it´s a nice little movie with lovely french ladies, few sympathetic americans and one year they´ll never forget.
Even Finland is mentioned couple of times


FP was released on dvd in 2008 but some people say that they have replaced the original soundtrack with elevator muzak. I own the finnish vhs tape with original tunes and all.
---
Posts: 6983 | From: Finland | Registered: Feb 2008 | Site Updates: 7 | IP: Logged |