aTomiK
.... has green eyes as well....
Member # 6575





7 Updates!

Member Rated:


posted




---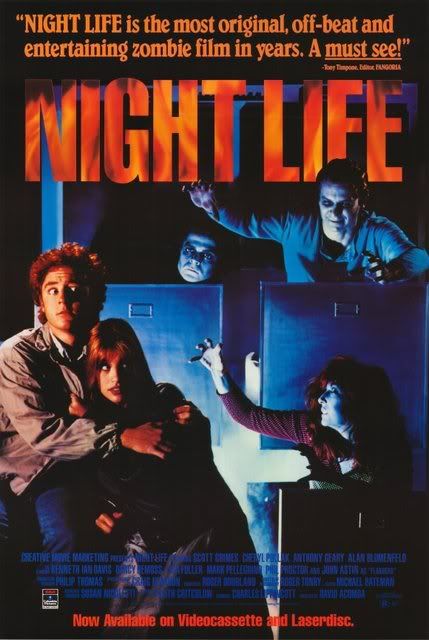 Archie is a "brain" at a small town high school who works part-time at his uncle's mortuary
and is harassed by a few of the popular kids because of it.
His harassers die in an automobile accident, and the bodies are taken to his uncle's mortuary.
Archie is pulling a late night at the mortuary when he sees a storm brewing.
Lighting strikes! They're alive! The preppie bullies continue to torment him
- as zombies. (from IMDb)

Night Life aka Grave Misdemeanours is a surprisingly good teen comedy-zombie horror movie.
The first hour or so is just like you´re typical teen film
and after that this turns into zombie horror flick with some nasty looking gore effects.

The flick was directed by David Acomba and written by Keith Critchlow (Volunteers)

Scott Grimes (Critters I & II) is awesome as Archie Melville and John Astin is his boss Verlin Flanders.
The co-stars are mostly familiar faces:

Cheryl Pollak (My Best Friend Is a Vampire, Pump Up the Volume)
Darcy DeMoss (Hardbodies, Friday the 13th VI, Can´t Buy Me Love etc.)
Lisa Fuller (Teen Witch)
Kenneth Ian Davis and Mark Pellegrino.

Check it out!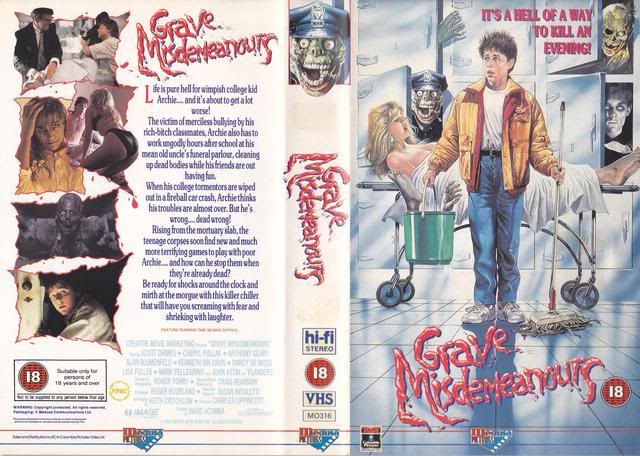 [ 24. February 2012, 01:37: Message edited by: aTomiK ]
---
Posts: 6983 | From: Finland | Registered: Feb 2008 | Site Updates: 7 | IP: Logged |