FILMFACTS
TRIVIA

Twilight Zone: The Movie Trivia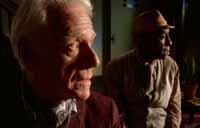 Totally Trivia
Film facts for the 1983 Fantasy movie starring Albert Brooks, Kathleen Quinlan, John Lithgow More Cast
We believe the following trivia is all legit. If it's bogus or you have additional info, please update us.
The on-set helicopter crash caused some inevitable changes to the finished movie. Many were suprised that the film was even released at all with the Vic Morrow segment. Originally in the script, whilst running from the American soldiers firing at him and an attack from a US Army helicopter in Vietnam, he would come across two Vietnamese orphans and, moved by their plight, would rescue them from the air attack by carrying them across the river -redeeeming himself in process. At the end of the segment, as an entire village was to be destroyed in the background, the reprieved racist would reassure the youngsters: "I'll keep you safe, kids! I swear to God!"
After the opening segment, where the movie really starts. Burgess Meredith narrates the classic "You're Travelling through another dimension. A dimension, not only of sight and sound, but of mind". "You've just crossed over to The Twilight Zone". If you look real close you can see (Rod Serling) the creator of the Twilight Zone in the pupil of the eyeball....Also, Burgess Meredith was in four original Twilight Zone episodes: Time Enough At Last (1959), Mr. Dingle The Strong (1961), The Obsolete Man (1961) and Printers Devil (1963).
"Kick The Can", "Terror at 20,000 Feet" and the "It's a Good Life" segments were all originally Twilight Zone episodes. "Terror At 20,000 Feet" originally starred William Shatner.
Nancy Cartwright, who appears in this movie later went on to provide the voice of Bart in The Simpsons and of Chucky in The Rugrats. The Simpsons also spoofed Cartwright's segment in a Halloween special with Bart being the boy everyone was afraid of. Ironically Cartwright's character in The Twilight Zone ends up trapped forever inside a cartoon. Funny how life works out!!
Helen Foley was a character in the Twilight Zone episode "Nightmare as a Child."
Bogus Trivia
There's often fake stuff floating round, y'know? -Like the 'ghost boy' that can allegedly be seen in "Three Men And A Baby".
But, nothing bogus that we know yet for "Twilight Zone: The Movie".
Next: Behind The Scenes
Or use the menu to select another option
1983 Warner Bros.
1999-2018 fast-rewind.com
V4.0b Powered by Rewind C21 CMS