FILMFACTS
TRIVIA

"
Hot. Reckless. Totally insane!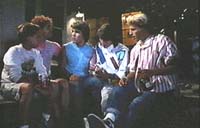 Totally Trivia
Film facts for the 1986 Action / Adventure movie starring Josh Brolin, Robert Rusler, Pamela Gidley, Brooke McCarter
Josh Richman, Brett Marx, David Wagner, Chuck McCann, Tony Alva, Mark Munski, Sherilyn Fenn, Zachary, Rocky Giordani, Steve Whittaker, Per Welinder, Mondo Beck, Christian Hosoi, Jesse Martinez, Masao Miyashiro, Steve Olson, Johnny Ray, Eddie Reategui, Steve Steadham Update Cast
We believe the following trivia is all legit. If it's bogus or you have additional info, please update us.
The swedish freestyle skateborder (Per Welinder from the Bones Brigade) that talks to Corey says "Heelt otroligt, man". In English: "unbelievable, man".
Christian Hosoi was released from prison in June, 2004. and is now a skateboarder again and has his own pro skateboard deck model that is already out for the skateboard company Black Label.
If you are interested in seeing a Carbon Copy film made in 1993, check out "Airborne" starring Shane McDermott, Seth Green, & Jack Black. Essentially the exact same story about a nice guy just trying to be himself who falls in love with the sister of his nemesis, only instead of being set on skateboards it's all done on the newest craze of the 90's, Rollerblades! The story even similarly culminates with an EXTREME downhill Rollerblading race which ultimately proves our hero to be the best skater around and reconciles his feud with the antagonist. A classic dupe on audiences, but both Thrashin' and Airborne Fans could line the movies up and watch them side by side to see that it plays the exact same; I guess it just depends on which decade one is more nostalgic over!
Famous skater, Tony Alva (one of the members of The Daggers - has the famous line, "Beat it ya Val Jerk!"), played bass in a band from Venice, CA called The Skoundrelz. You can find a song by The Skoundrelz in the movie. More on the band can be found here.
One of the daggers who says "For Wimps" to the breakdancers in the beginning of the movie is played by former skateboard pro Christian Hosoi. Chrisitian Hosoi went to prison for drug related charges.
Thanks to
Rick &Amp; Keith Wilson
The Swedish freestyleskater Per Welinder co-owns the skateboard company birdhouse with Tony Hawk. Per Welinder speaks some Swedish in the film and also does skatestunts in the film "Back to the Future"
In Tony Hawk's biography "Hawk: Occupation Skateboarder", he says that he was the stunt double for Corey in the competition.
Robert Rusler is most famous for Weird Science and a bit part in the tv show "The Outsiders" if I'm correct he plays the older brother (Mr. Patrick's part in the movie).
Bogus Trivia
There's often fake stuff floating round, y'know? -Like the 'ghost boy' that can allegedly be seen in "Three Men And A Baby".
But, nothing bogus that we know yet for "Thrashin'".
Next: Behind The Scenes
Or use the menu to navigate
1986 Fries Entertainment
1999-2020 fast-rewind.com
V4_27 Powered by Rewind C21 CMS