FILMFACTS
TRIVIA

"
She was the woman of his dreams... she had large dark eyes, a beautiful smile and a great pair of fins.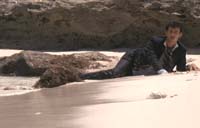 Totally Trivia
Film facts for the 1984 Romantic Comedy movie starring Tom Hanks, John Candy, Daryl Hannah, Eugene Levy (I)
Dody Goodman, Shecky Greene, Eugene Levy, Richard B. Shull, Bobby Di Cicco, Howard Morris, Tony DiBenedetto, Patrick Cronin, Charles Walker, David Knell, Jeff Doucette, Royce D. Applegate, Tony Longo, Nora Denney, Charles Macaulay Update Cast
We believe the following trivia is all legit. If it's bogus or you have additional info, please update us.
Daryl Hannah also played Priss in "Blade Runner" and Cathy Featherstone in "Summer Lovers" both 1982.
In addition to his father Rance, director Ron Howard's wife Cheryl and brother Clint can be seen briefly at the wedding. The three would also appear in his next effort "Cocoon."
Look for scriptwriter Lowell Ganz as Stan the Tour Guide.
Director Ron Howard followed up on the success of "Splash" by also directing "Cocoon" (1985), "Willow" (1988) & "Parenthood" (1989).
Ron Howard's father Rance Howard makes a cameo appearance. In the beginning of the movie, warehouse scene, a man is screaming about the bad cherries they are trying to sell him. When offered other fruit at cost, he says, "DEAL!"
You can see scriptwriter Babaloo Mandell as Rudy.
Splash was a Nominee for Best Original Screenplay at 1984 Academy Awards.
Daryl Hannah is a niece of cinematographer Haskell Wexler and has a younger sister who is also an actress.
A sequel entitled "Splash Too" starring Amy Yasbeck and Todd Waring was made for TV in 1988. In the words of our editor, "it really sucked!".
This movie may have been inspired by the 1948 movie " Mr.Peabody and the Mermaid" with the suave star Wiliam Powell and Ann Blyth. The 1948 movie was a take-off from the British movie " Miranda "(1947) in which a doctor catches a mermaid on a holiday back to London disguised as an invald patient! Glynnis Johns was the mermaid!
A scene in the movie with an additional character, known as 'The Sea-Hag' was cut from the film as Ron Howard felt it confused the viewer too much. The deleted scene has never been released but a short clip of it can be seen on the bonus material for the remastered DVD of 'Splash'.
Thanks to
Elle Richardson
On the original DVD release, if you switch the audio language to 'Dutch' the track 'Love came for me' plays as an instrumental version at the end and Rita Coolidge's vocals are removed.
Bogus Trivia
There's often fake stuff floating round, y'know? -Like the 'ghost boy' that can allegedly be seen in "Three Men And A Baby".
But, nothing bogus that we know yet for "Splash".
Next: Behind The Scenes
Or use the menu to navigate
1984 Touchstone Pictures
1999-2020 fast-rewind.com
V4_27 Powered by Rewind C21 CMS