FILMFACTS
TRIVIA

Good Morning, Vietnam Trivia
"
Time to rock it from the Delta to the DMZ.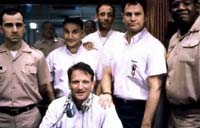 Totally Trivia
Film facts for the 1987 Comedy movie starring Robin Williams, Forest Whitaker, Bruno Kirby, J.T. Walsh
Tung Thanh Tran, Chintara Sukapatana, Robert Wuhl, Noble Willingham, Richard Edson, Juney Smith, Richard Portnow, Floyd Vivino, Cu Ba Nguyen, Dan Stanton, Don Stanton, Danny Aiello III, John Marshall Jones, James McIntire, Peter Mackenzie Update Cast
We believe the following trivia is all legit. If it's bogus or you have additional info, please update us.
Thanks to
Andrew Backhouse
Role-wise, actor J.T. Walsh was pretty much a professional scumbag, except for his uncredited cameo in "Misery", just about every character he played ranged from criminal to despicable to out-and-out evil.

Dickerson fills the latter bill, as his act of sending an unarmed Adrian and Garlick straight into VC-occupied territory is basically an act of attempted murder or treason, if not both, and in real life he would most likely be court-martialed. Then again, in the film's end, that might have been why the General was sending him to Guam!

Other lowlifes played by Walsh include the D.A. who wanted to put Kris Kringle away in 1994's "Miracle On 34th Street" remake, a corrupt Internal Affairs cop in "The Negotiator", and Kathleen Quinlan's kidnapper in "Breakdown". His last role before his death was 1998's "Pleasantville", where he played the tyrannical mayor.
The real Adrian Cronauer is now a lawyer specializing in copyright and trademark law.
In order to give the trailers a more military feel, scenes of Cronauer on the air in military fatigues were shot specifically for the trailers.
This classic film grossed $123.922m in the US alone.
Actor Bruno Kirby (Lt. Hauk), is not often recognized in GMV because he lacks the mustache he sported in his next two hit films, 1989's "When Harry Met Sally" and 1991's "City Slickers". He also tried his hand at directing on television in the mid-90s. Sadly, Kirby passed away from leukemia in 2006.
Director Barry Levinson went on to become executive producer of two 90's TV dramas, HBO's "Oz", and NBC's "Homicide: Life On The Street".

Additionally, Levinson participated in the post-"Jurassic Park" rush to bring more of Michael Crichton's novels to the big screen, directing both "Disclosure"(1995) and "Sphere"(1998)
Forest Whitaker (Garlick) continues to act and has tried his hand at directing, finding success behind the camera with such films as "Waiting To Exhale", "Hope Floats", and "First Daughter".
Bogus Trivia
There's often fake stuff floating round, y'know? -Like the 'ghost boy' that can allegedly be seen in "Three Men And A Baby".
But, nothing bogus that we know yet for "Good Morning, Vietnam".
Next: Behind The Scenes
Or use the menu to navigate
1987 Touchstone Pictures
1999-2020 fast-rewind.com
V4_27 Powered by Rewind C21 CMS