FILMFACTS
TRIVIA

"
The snobs against the slobs.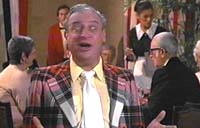 Totally Trivia
Film facts for the 1980 Comedy movie starring Chevy Chase, Rodney Dangerfield, Bill Murray, Ted Knight
Michael O'Keefe, Sarah Holcomb, Scott Colomby, Cindy Morgan, Dan Resin, Henry Wilcoxon, Elaine Aiken, Albert Salmi, Ann Ryerson, Brian Doyle-Murray, Hamilton Mitchell, Peter Berkrot, John F. Barmon Jr., Lois Kibbee, Brian McConnachie, Tony Santini Update Cast
We believe the following trivia is all legit. If it's bogus or you have additional info, please update us.
In the opening scene, Sally, the little girl in the pigtails and romper being carried by Nancy is played by director Harold Ramis' real-life daughter Violet, who at the time was a toddler.
Co-scripter Brian Doyle-Murray turns up as Lou Loomis while co-scripter/producer Douglas Kenney has an uncredited role as Al Czervik's dinner guest.
The movie grossed $39.8 million at the box office.
Don't know if many people have noticed but when D'annunzio comes back to the shack after caddying for the old couple someone says in the background: "What, did they die on ya Tony?"
Michael O'Keefe and Bill Murray were actually good mates in real life. Bill Murray even convinced O'Keefe to try out for the role of D'Annunzio but the director and producer felt that he was more suited to the role of Danny Noonan, so he got the part.
According to Scott Colomby on the DVD extras, he only took up smoking after playing the part of cigarette-puffing Tony.
If you look in the background after Schmails throws his golf club towards the clubhouse after missing his putt, another guy quickly spins around and throws his golf club a few metres in an attempt to immitate Schmails.
Sarah Holcomb, who played Danny's love interest "Maggie O'Hooligan," also appeared as the 13 year old jailbait daughter of the Mayor in "Animal House." Despite the huge success of both films, Sarah's life spiraled into a nightmare of drugs, alcohol and depression, and Caddyshack was her last film appearance. Her true story is "chronicled" in the 2004 movie "Stateside."
Chevy Chase and Bill Murray appeared on an episode of Saturday Night Live, performing a spoof commercial for "The Quotable Caddyshack," a book of one-liners from the film that can be used in "everyday situations." I know I quote it often! LOL!
If you look above the door frame in the Caddyshack, it says "Courtesy = Tips"
Michael O'Keefe who playe Danny Noonan, received a Best Supporting Actor Oscar nomination for his role as the oldest son of a Marine aviator in The Great Santini.
Michael O' Keefe went on to play Jackie's baby daddy and future husband Fred on "Roseanne".
Around the time that Tony D'Annunzio is teeing off in the Caddy Tournament you can here a spectator say about Tony, "He's a power hitter".
Bogus Trivia
There's often fake stuff floating round, y'know? -Like the 'ghost boy' that can allegedly be seen in "Three Men And A Baby".
The following trivia for "Caddyshack" is apparently bogus. If you disagree or have additional info, please update us.
Myth: Some of the scenes in this movie were improvised, including the part where
Chevy Chase
's golfball accidentally breaks
Bill Murray
's window.
Actually, the scene between Chevy & Bill wasn't added until it was realized that the two biggest stars in the movie never share the screen. So, Chevy, Bill & Harold Ramis (the director) went to lunch, wrote the concept for the scene, and shot it that very afternoon. Just think, had it not been for that lunch, we would never know about smokable and playable grass :)
Next: Behind The Scenes
Or use the menu to navigate
1980 Orion Pictures
1999-2020 fast-rewind.com
V4_27 Powered by Rewind C21 CMS