FILMFACTS
TRIVIA

Battle Beyond the Stars Trivia
"
A battle beyond time... Beyond space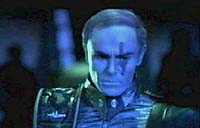 Totally Trivia
Film facts for the 1980 Sci-Fi movie starring Richard Thomas, Robert Vaughn, John Saxon, George Peppard
We believe the following trivia is all legit. If it's bogus or you have additional info, please update us.
Shad's love interest in the movie, Nanelia, is played by Darlanne Fluegel who first appeared in "The eyes of Laura Mars" starring Faye Dunaway, in 1978, as a model.
Robert Vaughn plays the same character he played in "The Magnificent Seven", which also was a film using the same basic plot as "The Seven Samurai".
Look out for venerable character actor Earl Boen, who played doubting psychiatrist Dr. Silberman in "The Terminator" as the Nestor who does all the talking. His excellent work despite the difficult makeup led directly to getting the role in Cameron's later film.
The planet Shad comes from is called Akir, the race being known as Akirians, this is apparently a tribute to Akira Kurasowa who originally wrote & directed The Seven Samurai.
The spaceship fight scenes created for "Battle Beyond the Stars" were used in more than a couple of other later films (I've personally seen some of the spaceship fight scenes used in "Battle Beyond the Stars" in the film Prison Ship Star Slammer). But I think "Battle Beyond the Stars" is also guilty of stealing from other sources because some of the lazer shot sounds are an almost perfect match to those used in "Battlestar Galactica".
All the spaceship/combat scenes in Space Raiders are merely lifted from this movie!
If you're after more trivia then get the DVD, it has not one but two commentary soundtracks to it, one with John Sayles (screenplay and story) and Roger Corman (co producer) who instead of commenting on each scene, they talk more about the background of creating "Battle Beyond the Stars" and other films back in the early 80s which is quite fascinating, and another soundtrack with Gale Anne Hurd (assistant production manager, went on to be the producer of several famous groundbreaking James Cameron 80s films; "The Terminator", "Aliens" & "The Abyss") who talks about her involvement with the film and the people who made it, not as fascinating as the John/Roger commentary but still worth a listen as she talks more about the making of the film than of film making in general. The DVD also contains a large amount of detailed biography text on Roger Corman, Gale Anne Hurd, John Sayles, James Cameron, James Horner, Robert Vaughn etc.
Bogus Trivia
There's often fake stuff floating round, y'know? -Like the 'ghost boy' that can allegedly be seen in "Three Men And A Baby".
But, nothing bogus that we know yet for "Battle Beyond the Stars".
Next: Behind The Scenes
Or use the menu to navigate
1980 New World Pictures
1999-2020 fast-rewind.com
V4_27 Powered by Rewind C21 CMS