REWIND
REVIEW

"
A place on earth more awesome than anywhere in space.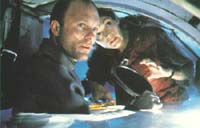 Starring
Michael Biehn, Ed Harris, Mary Elizabeth Mastrantonio, Kimberly Scott
Leo Burmester, Todd Graff, John Bedford Lloyd, J.C. Quinn, Captain Kidd Brewer Jr., George Robert Klek, Christopher Murphy, Adam Nelson, Dick Warlock, Jimmie Ray Weeks, J. Kenneth Campbell, Ken Jenkins, Chris Elliott Update Cast
Cameos
Look for Mike Cameron making a cameo appearance!
James Cameron contacted Orson Scott Card before filming began with the possibility of producing a book based on the film. Scott initially told his agent that he doesn't do "novelizations", but when she told him that the director was Cameron, he agreed to consider it. The script arrived, and Card signed on after receiving assurances from Cameron that he would be free to develop his "novel" the way he wanted to. After a meeting with Cameron, Card immediately wrote the first three chapters, which dealt with events concerning Bud and Lindsay Brigman that occurred before the events in the film. Cameron gave these chapters to Ed Harris and Mary Elizabeth Mastrantonio, who used it to develop their characters.
More Trivia from The Abyss
Review
When a military submarine mysteriously burns up in the ocean, government suits arrange for the crew of an underwater oil-drilling platform to investigate with two U.S. Navy Seals and a science expert in tow.

The teams, led by cynical deep-sea veteran and reluctant divorcee Bud Brigman (Ed Harris -- who is even more on edge than usual when he discovers ex-wife Lindsay (Mastrantonio) is the expert in question).

As they go deeper than Axel Foley, our heroes discover strange alien activity in the ocean, and come face to face with a beautiful but bizarre H2O shape changer. Extreme tension soon takes over, as Brigman comes into conflict with the Seals and begins to find that all is not what it seems. Can they make it above sea level before the military mind takes over, Cameron poses the age-old question of discern or destroy, educate or eliminate? The answers can (just about) be found in The Abyss.

On a purely technical level, you have to admire Jim Cameron's audacity and steely determination as writer /director, to even get this hulking, machine of a movie in-front of the cameras. Logistically insane, and more than a little harsh on the actors, 'The Abyss' is about one man's cinematic vision and the lengths to which he'll go in order to achieve it; Cameron would return to the sea almost a decade later in the equally extravagant, multi-Oscar winning epic, 'Titanic' but for now, 'The Abyss' is as deep as it went, with a 7 million gallon water tank on location.

Perhaps the reason Cameron doesn't give himself cameos, is because he's practically in every frame: Jim's influence and unique style oppresses The Abyss like Skynet's favourite T-800 on acid. I mean a 170 min film about deep sea diving isn't exactly everyone's cup of tea, but sure enough, Cameron's major theme about the "collision between technology and the unknown" (J.C) is maintained throughout, thus ensuring that the movie never becomes boring.

Another element which works in it's favour, is the acting; Ed Harris is great as Bud Brigman, Harris' performance consistently saves his character from the realms of blue collar cliché whilst Mary Elizabeth Mastrantonio ('Scarface') is also pretty convincing as his know-all wife Lindsey.

The rest of Bud's crew do a good job, but seem as if they'd be best pals with the colonial marines from 'Aliens': for they're straight out of the Jim Cameron 'Nudge n' Wink Cheeky Chappys Having A Laugh In Oppressive Conditions' handbook.

Surprisingly, it's 'Terminator' star Michael Biehn (complete with villain's tache) who gives a powerhouse performance as a nuke happy marine who cracks under the pressure. Biehn is often, unfairly, portrayed as a B-actor, when I reckon the truth is much simpler. Michael's only good in a James's Cameron movie, kinda like the way in which Kyle MacLachlan does some of his best work alongside David Lynch, and the reclusive Gary Sinese takes over whenever he's in a Ron Howard movie.
Author:
Kashif Ahmed
Update This Review
Verdict
Although Cameron wasn't quite 'King Of The World' in 1989, we're still treated to a couple of suspect plot twists, and some Spielberg style 'sugar on your frosties' moments, which seem to work despite their obvious flaws: Health departments should take note to be sure get yourself an Ed Harris, who'll shout and slap your patients to good health, and hey, if all aliens are a bunch of tree hugging' hippies, then the fat cats and polluters have absolutely nothing to worry about, because they're all talk and no tidal wave...

"The Abyss" is a great movie, very well acted, directed and with some excellent SFX which are still quite impressive; but a little more depth (no pun intended) and a less "...the world's a fine place and worth fighting for" ending would've made it an absolute classic.
Great acting, directing and SFX

The script occasionally relies on clichés and the ending is a bit of a cop out
Rewind Rating
The Movie Data
Data
Release Date: 09 Aug 1989
MPAA Rating: PG-13
Studio: 20th Century Fox
Production: Lightstorm Entertainment, Pacific Western, Twentieth Century-Fox Film Corporation
Genre: Sci-Fi
Update The Data
The Movie Trailer
Jump To: Music & Soundtrack Vibes
Or use the menu to navigate
1989 20th Century Fox
1999-2020 fast-rewind.com
V4_27 Powered by Rewind C21 CMS