REWIND
REVIEW

"
Come to Laugh, Come to Cry, Come to Care, Come to Terms.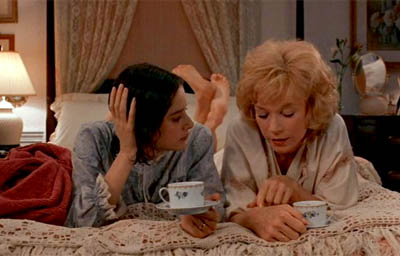 Starring
Debra Winger, Jack Nicholson, Jeff Daniels, Shirley Maclaine
John Lithgow, Danny DeVito, Lisa Hart Carroll, Betty King, Huckleberry Fox, Troy Bishop, Shane Serwin, Megan Morris, Tara Yeakey, Norman Bennett, Jennifer Josey Update Cast
Cameos
Look for Danny DeVito making a cameo appearance!
A major award winning movie. Winner of 5 Academy Awards including: three for director James L. Brooks, for Best Picture (as producer), Best Director and Best Adapted Screenplay; Best Actress - Shirley MacLaine (also nominated against co-star Debra Winger); and Best Supporting Actor - Jack Nicholson (nominated against co-star John Lithgow).
More Trivia from Terms of Endearment
Review
I like comfort food. Chicken Fricasee, Meatloaf -with cake or pie for dessert.

"Terms of Endearment" is comfort food in movie form. The acting is quite impressive --although it's the story that I love.

Emma is a fiesty, hot headed woman whose favorite thing and most despised thing are the same: the relationship with her mother, Aurora. Alone with her mother and their devoted housekeeper, Rosie, after her Father passes away when she was a young girl-Aurora is both the source of comfort and massive agitation in Emma's life. Patsy, her devoted but somewhat shallow friend, agrees and always pushes Emma to do her own thing. In fact, Emma is so focused on breaking away from her domineering mother, she fails to heed her advice, which we discover in the long run would have made her life a great deal easier.

Aurora is paranoid she will lose Emma, she has been since birth-she used to drive her late husband nuts running to the nursery to check the sleeping baby to make sure she was breathing-usually waking her up. Then she lost her husband and Emma was all she had left. She disapproves of her daughter's choice of husband- a cad named Flap, whom Aurora assumes (correctly) will never bring her daughter true happiness. Emma of course runs from her mother's warnings and gets married anyway. Thus the story begins full throttle.

The story is really two: Emma's life as she moves, has three children, senses her husband cheating on her, gains a lover herself,moves again (losing the lover in the process) finds out she agreed to uproot her family so her husband can continue his relationship with his lover (!!) and then discovers she has Cancer.

Then there is Aurora's life, missing her daughter, dealing with suitors, starting a relationship, losing it and then being forced to face her worst fear ever-losing her daughter to Cancer.

The movie shows how Emma just wants to finish living, not waiting to die, how Flap (her wayward husband) pales at the idea of raising three kids on his own, how Aurora agrees to raise her daughter's children, and in a rather off-the road but meaningful NYC trip, how you never really know what your friends can become (Patsy, who has become corporate chick, has friends who view Emma with contempt at her being "simple", the chalky sympathy at her medical condition) and the age old issue of saying goodbye.

There is a side story of Aurora's love life with the bad boy ex-astronaut next door, and how he loosens her up and she scares him with the "L" word. At first I was baffled why they bothered with that, but eventually I realized that this man keeps Aurora sane when the world around her is falling in.

This movie is great for a snowday or if you have the flu. It warms the soul and goes great with Ice Cream.
Author:
Chris Peterson
Update This Review
Verdict
It can be preachy, however shows an interesting point on how sick people prefer to be treated and how much family truly means-even when you are always at each other's throats.
Warms the heart, has a few good laughs.

Flap and the infidelities annoyed me, why did Emma bother with him??
Rewind Rating
The Movie Data
Jump To: Music & Soundtrack Vibes
Or use the menu to navigate
1983 Paramount Pictures
1999-2020 fast-rewind.com
V4_27 Powered by Rewind C21 CMS