REWIND
REVIEW

"
It's the land of hospitality... unless you don't belong.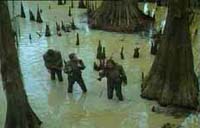 Starring
Keith Carradine, Powers Boothe, Fred Ward, Franklyn Seales
Director Walter Hill's 80's resume reads very impressively... check out his other movies from the 'Neon Light' era:- Red Heat (1988) (screenplay) (story), Aliens (1986) (story), Blue City (1986), Streets of Fire (1984), 48 Hrs. (1982), and Long Riders, The (1980).
More Trivia from Southern Comfort
Review
Retracing steps taken in Boormans superior 1972 film Deliverance, this powerful survivalist thriller became notorious in its own right during the eighties, combining the essence of the wilderness nightmare with the dialogue driven dramatics that were Walter Hill's trademark.

Surrounding the exploits of a group of National Guard, sent on a training recon' patrol through the Louisiana swamplands, it is a strangely gripping film, creating a nice level of involvment and concern for its characters.

Led by Sgt Poole (Coyote), we are introduced to the platoon including Texan Boothe and personal buddy team member Carradine. They and their offbeat crew embark on their cross country mission expecting cold water and harsh rules, compass problems see them struggle in finding their way round this watery block, they could be forced to turn back and start over unless a solution is found.

They sense their chance when happening upon some vacant canoes needed to cross a vast swampland, whilst paddling they spot the rightful owners in the distance. A fatal error involving one soldier sees blanks fired as a joke. The Cajuns flee but retaliate taking out Sgt. Poole with a single shot to the head. Chaos rules as boats overturn with radio equipment lost, the panic and confusion amongst the soldiers evident as they scramble for the bank.

With their commanding officer dead and only blanks for comfort they become increasingly directionless, helpless and open in unfamiliar terrain. Casper (Les Lannon) takes the stripes as leader, but his qualities prove ineffective, quoting the manual to his troops only saps their confidence.

They argue constantly, with Reese (Fred Ward) refusing at first to share his only box of real shells until he is taken at knifepoint by Texan loner Boothe, forcing him to hand out the bullets.

Believing that they are soon to find the highway the platoon wade on through the mire until they happen upon a shack and capture and interrogate a Cajun poacher who they believe is responsible for Poole's death. The trapper refuses to talk and in the cold light of morning is held under water, forced by Reese (Fred Ward) who demands information. Boothe intervenes and the two comrades spin blades in combat, the warrior in peace is victorious in death with the silhouetted soldier on the poster art shown as killer.

It seems the enemy have the advantage in this habitat and remain hidden, monitored and picked off, the men fall in numbers, but with Spencer (Carradine) keen to take over as leader and Hardin (Boothe) as back up, they realise that moving as a unit will see their chance of survival greatly improve. The two swear to make it out alive saving each other a seat, yet it seems respect must be upheld in this unforgiving environment, and for their natural inhabitants, caution is necessary, as it can be the land of hospitality ... unless you don't belong there!
Author:
Nik Allen
Update This Review
Verdict
Southern Comfort is a genuinely dramatic and rather frightening film, the hard dialogue between characters does at times add something of a ludicrous element to what is a memorable 80's picture.

Achieving any involvement is made possible by the storyline but the real star is of course the brooding swampland and the soundtrack by Ry Cooder.

Powers Boothe, (who continued in this sub-genre in The Emerald Forest) and Keith Carradine (co-star in The Duellists with Harvey Kietel) give excellent performances here, as does the whole platoon, including Fred Ward, Franklyn Seals, Lannon, T.K Carter and a brief appearance by Coyote. Using the gothic mystery of the South and the appeal of the 'lost in the wilds' helplessness the film meanders through the groups emotions favourably and is effective in doing so, notably, when they are attacked by several Rottweiler dogs.

Close quarters camera on the movement of the Guard keeps it claustrophobic, without many panoramic shots to release the tension and as with his other films like The Warriors and 48 Hrs, Hills fast talking, no holds barred style has the camera eye rarely further than mid close up on actors. Action sequences are handled well as when a soldier hurtles through the swamp resigned to some kind of death wish in slow motion, drops of water splash around him lit up by the shafts of light, a nice touch that must be experienced on DVD to gain the true colours of the bayous splendour and without giving too much away, the real accomplishment is without doubt, the last fifteen minutes, which make the finale' not only one of the best in 80's movies, but a pinnacle in cinema suspense... period.
Superb soundtrack, excellent suspense and WHAT an ending!

Script is not without it's weak parts.
Rewind Rating
The Movie Data
Jump To: Music & Soundtrack Vibes
Or use the menu to navigate
1981 MGM / UA
1999-2020 fast-rewind.com
V4_27 Powered by Rewind C21 CMS